Energy Industry Trends To Watch Out For In 2022
16 Feb, 2022
3:45
The energy industry is emerging from an extremely turbulent period - from the uncertainty of...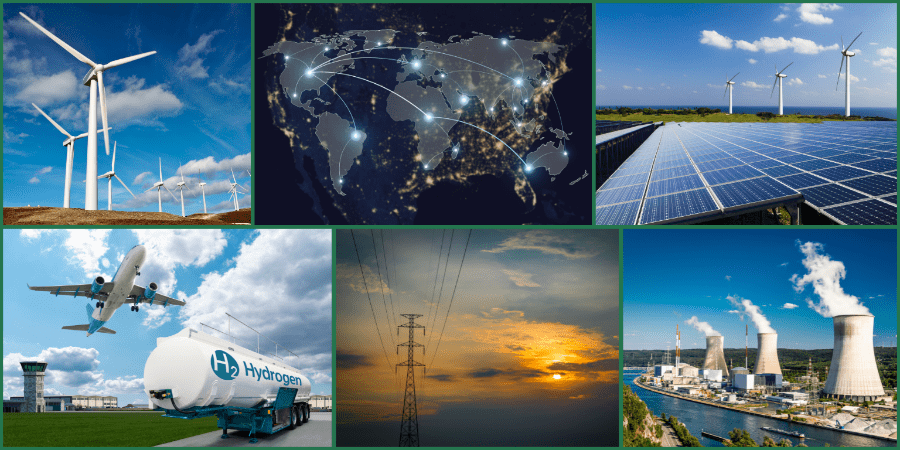 The energy industry is emerging from an extremely turbulent period - from the uncertainty of the pandemic to energy demand in 2021 quickly exceeding pre-pandemic levels – the market has been difficult to predict leading to volatile energy prices globally.
So, after a period of such unpredictability, what can we expect for 2022? The growing energy demand, combined with global incentives to reduce carbon emissions, is leading to some very interesting trends to watch out for in 2022 and beyond. Here are just a few of the ones you should be looking out for.

​
Growing Interest in New Sustainable Technologies
Over the past few decades, there has been a massive growth in Renewable Energy infrastructure and technologies. However, reducing emissions in the industries that are hardest to decarbonise, such as transportation, aviation, and Oil & Gas, is still a challenge facing the sector.
A lot of the technologies that are aimed at reducing highly emitting industries, such as Carbon Capture and Storage, Green & Blue Hydrogen, and Sustainable Aviation Fuel, are still in their infancy. However, 2022 is looking to be a year where key milestones are hit.
As highlighted by S&P Global's latest analysis on Energy trends, two hydrogen-fuelled maritime vessels are set to hit the waters in the coming year, and the first large liquefied hydrogen (LH2) carrier is expected to load its cargo of hydrogen in Australia in the early parts of 2022.
Sustainable Aviation Fuel is also expected to grow over 2022 and beyond, as more and more countries set incentives to reduce the aviation industry's carbon emissions. For instance, France has set in a mandate for 1% SAF usage starting in 2022. The EU has also suggested a 2% SAF mandate by 2025 in its Refuel EU aviation plan.
CCUS is also seeing a lot of traction within the Oil and Gas industry, which is making efforts to offset its carbon emissions, and these are some exciting projects on the horizon. According to Wood Mackenzie, 15 projects are set to reach Final Investment Decisions (FID) in 2022. If these all go according to plan, this should add about 35 Mtpa of new CO2 capture or storage capacity.
​
Development of transmission infrastructure to support the energy transition
As Renewable Energy capacity grows globally, there is an increasing need for better and new infrastructure to link remotely located renewable energy sources to areas where the energy is needed.
This is something the industry is expected to tackle in 2022. As highlighted by Deloitte's 2022 Renewable Energy Industry Outlook, in the past, transmission projects have been a major challenge for the growth of renewables, especially when they cross borders or regions.
This is due to the many challenges involved in gaining regulatory approval from all the different countries or regions the project would cross. Opposition from environmental groups and landowners has also been a barrier to the delivery of transmission projects. Currently, 844 GW of proposed capacity, of which about 90% involves renewables or energy storage projects, are stuck in transmission interconnection queues.
The offshore wind sector is particularly hard-hit by this, as it's expected to grow significantly over the coming years and needs to be connected to onshore infrastructure. There is an urgent need to upgrade existing transmission lines and build new ones to help solve this growing transmission challenge. This is something we can expect the Renewables industry to tackle in 2022 to support the global energy transition to greener sources of energy.
​
Continued investment from Oil and Gas companies into the Power and Renewables Sector
As tackling global warming becomes an growing priority, governments are setting new net-zero targets, leading Oil and Gas companies to invest in Renewable and Alternative Energies. As stated by Maria Agustina de Sarriera, Consulting & Research Analyst for the Oil and Gas industry at Frost & Sullivan,
European-headquartered companies are currently leading the energy transition in terms of technology and initiatives, but 2022 will see companies in other regions making moves to close the gap. Power generation, particularly larger renewable projects, will continue to be the standout area for new investment, but significant volumes of investment will also go into green hydrogen production, battery and home energy storage solutions, electric mobility and grid flexibility services.
Stakeholders are placing increasing pressure on these businesses to make strong strategic decisions regarding their transition into cleaner energy. And this trend is only going to gather momentum in 2022.
​
Advanced Digital Technology and Analytics
Another key trend to watch out for in 2022 is the acceleration of digital adoption and innovation within the energy sector. A lot of the current infrastructure is old and increasingly incompatible with the way we use energy today.
Energy demand is growing globally, we are seeing a much greater share of renewable energy sources, distributed energy resources (DERs), increasing penetration of electric vehicles (EVs) and the charging infrastructure that accompanies this. All these factors combine to make grid load management more and more difficult for utility companies.
This is leading to a much greater focus on grid efficiency and reliability, and this will involve improving the digital technologies we use such as connected systems, automation, Big Data, and Cloud adoption. For example, companies have started using virtual power plants (VPPs) to increase grid reliability and resiliency.
According to Frost & Sullivan, the global market for Virtual Power Plants is set to grow from $565 million in 2021 to $3.3 billion by 2030.
​
NES Fircroft and supporting the Energy industry
NES Fircroft is an experienced staffing provider across the whole breadth of the energy industry. We are currently solving staffing challenges for our clients across the globe. If you have a Power, Oil and Gas, Renewables or Alternative Energy staffing requirement, get in touch with our experts today.
We are already working on some of the world's most exciting energy projects and we're experts at finding the right placements for the right candidates. NES Fircroft also has a great track record of recruiting for UK oil and gas jobs. Wherever your expertise lies, we have plenty of energy job opportunities for skilled engineers looking to enhance their careers.