How Has The Renewable Energy Market Changed In The Last Decade?
15 Jan, 2020
3:47
Clean energy is generally recognised as the pathway to a sustainable future for the planet a...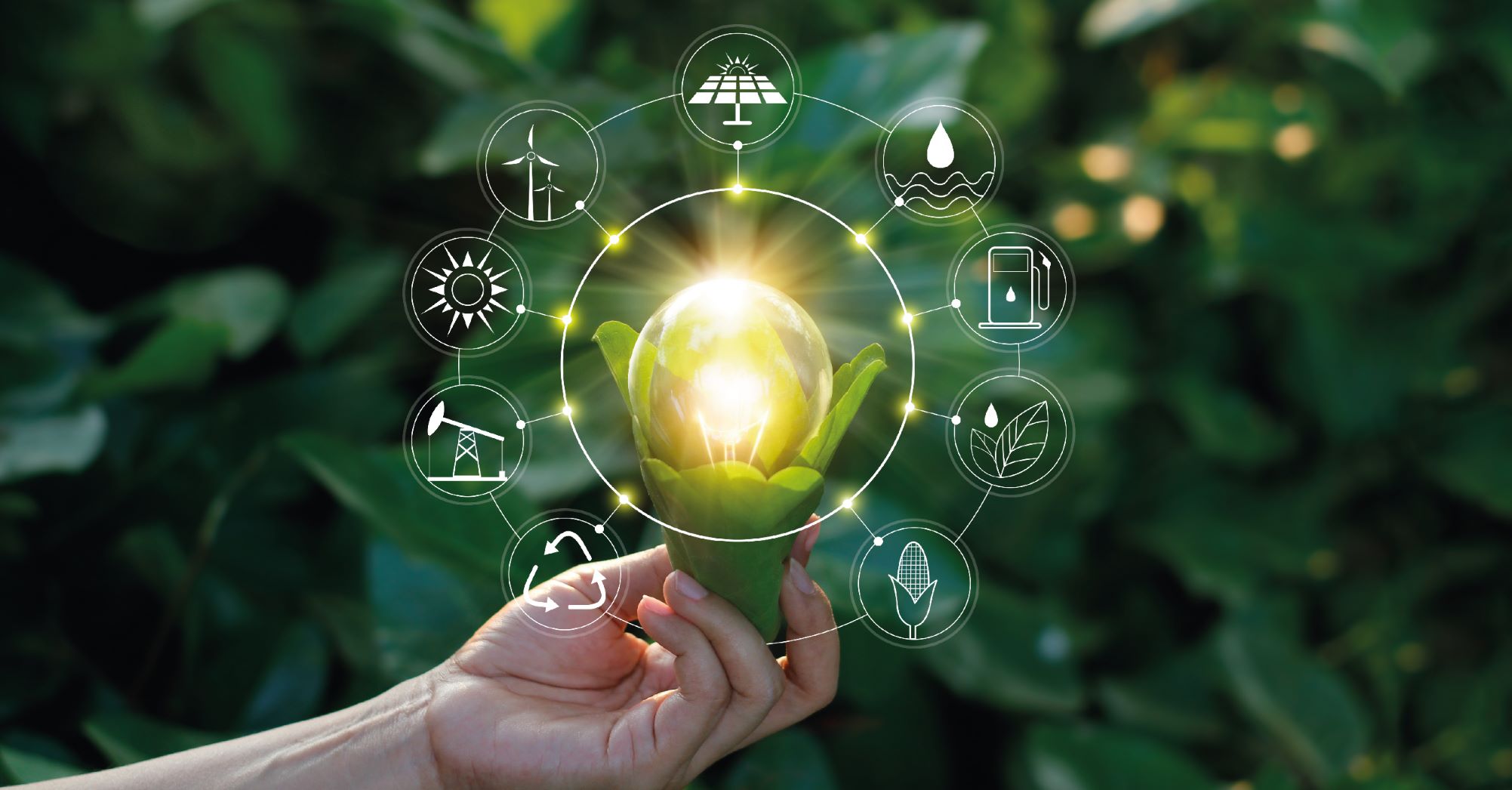 Clean energy is generally recognised as the pathway to a sustainable future for the planet and because of this, over the last decade, the energy industry has seen great change – such as shifts in our energy production mix, an increase in renewable energy capacity and a rise in global investments. This change is driven by consumers becoming more environmentally conscious and is set to continue as we go into the 2020's. So, how has the industry changed over the years and ultimately, what does this mean for the energy market?
An evolving energy mix & competitive pricing
In the UK in 2019, energy consumption from renewable energy sources surpassed gas for the first time according to the Department for Business, Energy & Industrial Strategy. This achievement is a drastic change compared to energy usage at the start of the decade; in 2010 the UK used 40.23 tonnes of coal to produce power, but by 2018 this number dramatically reduced to just 6.64 tonnes.
This shift in the energy mix has been echoed globally – the percentage of renewable energy used worldwide rose from 16% in 2010 to 26% in 2019. In the last 10 years, the number of countries with renewable energy policy targets doubled. These statistics are partially due to an increase in both environmentally conscious consumers and more eco-conscious Government policies.
As well as this, some renewable energy technologies have become the cheapest power generation option in many countries. According to the Global Trends in Renewable Energy Investment 2019 report, in the last decade, solar photovoltaics costs were reduced by 81%, onshore wind by 46% and offshore wind by 44%. When compared with traditional energy sources, the low ongoing running costs of renewable energy sources become apparent, making them attractive choices to countries aiming to lower their emissions long-term.
Increasing Renewable Energy Capacity
From 2015 onwards, the ongoing cost reductions in renewable energy technology enabled installed capacity to soar. Policy-makers and investors across the globe combined with the growing importance of cleaner energy means that renewable energy has become more widely recognised as a good investment. In the last 10 years, research and development spending in the sector has risen 10% up to $13.1 billion, enabling countries to more than double their power capacity. Renewable energy now accounts for a third of our global power capacity according to data released by the International Renewable Energy Agency (IRENA) in early 2019.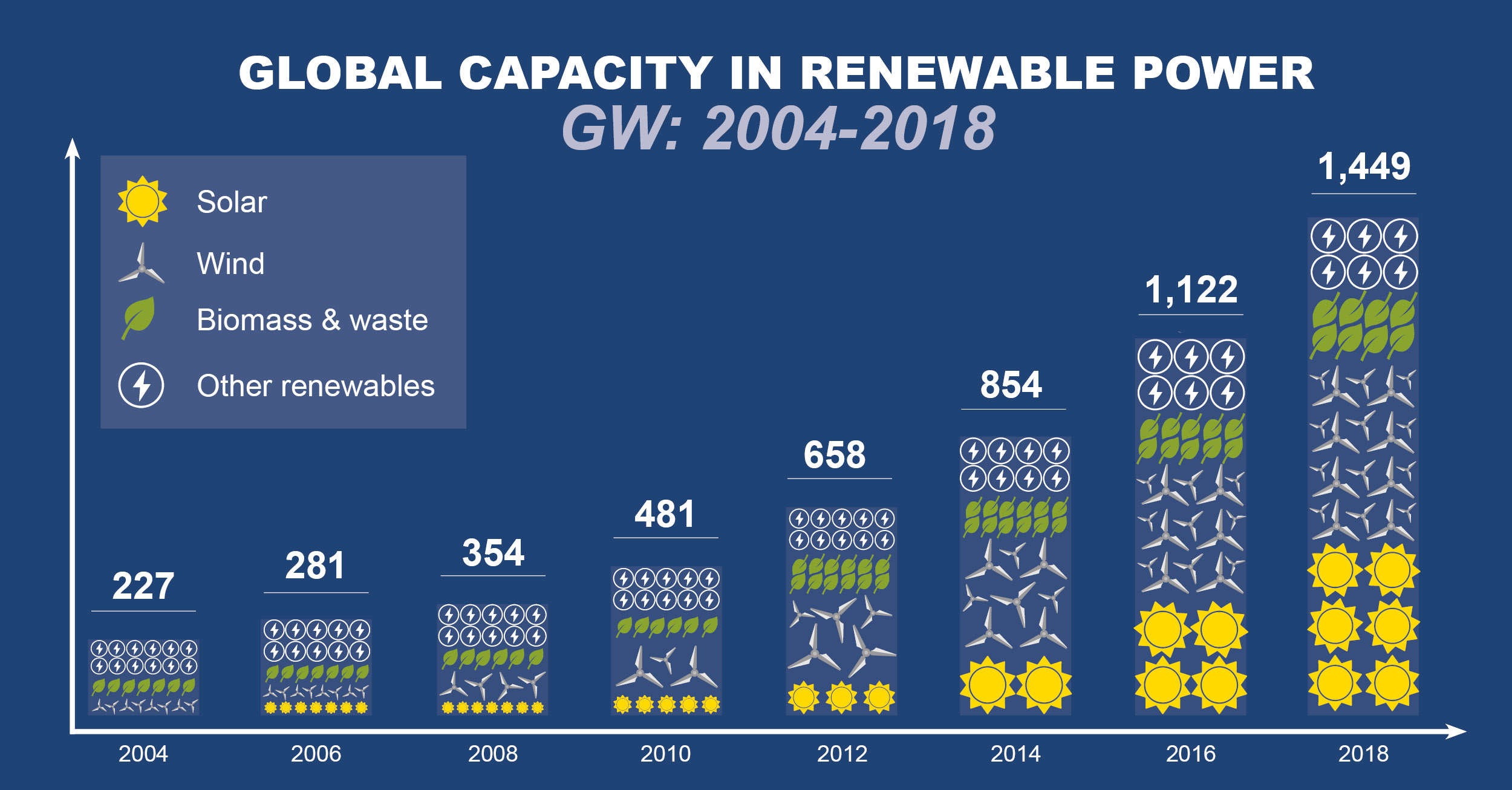 *Graph is a snapshot overview of how global capacity for renewable power has evolved since 2004. Data taken from the Global Trends in Renewable Energy Investment 2019 report and does not include large hydro-electric projects of more than 50MW.
---
Solar power led the way with more solar capacity being installed in this decade than any other power generating technology - capacity grew from 23GWe in 2009 to 505 GWe by the end of 2018.
Wind power capacity has also grown rapidly from 159 GWe in 2009 to 591 GWe by the end of 2018 – with the average offshore wind farm increasing in size from 79.6 MW in 2007 to 561 MW in 2018.
The average offshore wind farm increased in size from 79.6 MW in 2007 to 561 MW in 2018.

Growing Renewable Energy Investments
The growing renewable energy momentum from the last decade is supported by a rise in global investments – which totalled roughly 2.6 trillion by the end of 2019. Investors around the world truly seized this economic opportunity making 2018 the fifth successive year in which renewable energy investments exceeded $250 billion.
China was a leading source of renewables investments this decade, committing roughly $758 billion between 2010 and early 2019. This level of investment as yet remains unmatched by any other country – the second largest investment came from The U.S. who committed $356 billion. Japan also invested heavily, committing around $202 billion, and Europe, as a whole, invested roughly $698 billion.
This surge in investments comes from growing confidence in renewable energy projects and their ability to deliver a return on investment. Government initiatives in the last decade guaranteed the full electricity price to the investor, or a certificate that could be sold to provide another income source alongside the wholesale market electricity price – making renewables a safer business investment.
Traditionally, market electricity prices are unpredictable so this assurance from the government enabled many renewables projects to make it past the drawing board and become a reality.
What does this mean for the energy job market?
There's a clear global trend towards the production and use of renewable energy, which means more job opportunities for skilled engineers will be created. According to IRENA, at the end of 2018 the renewable energy sector employed 11 million people worldwide and this number is rising to meet government legislations from major global economies, such as the UK's aspiration for an emission free 2050.
These legislations are vital to ensure a low-carbon and sustainable future. The Global Trends in Renewable Energy Investment 2019 report estimates that without renewable energy, i.e. if the world's power had come solely from coal, oil and gas power stations, then carbon dioxide emissions from the power sector would have been 2 gigatonnes or 15% higher in 2018.
Despite this, carbon emissions have, on a whole, increased in recent years – the world can't be powered by renewable energy alone. So as well as continuing to invest in renewable energy and growing capacity, the energy market needs to work together to reduce emissions whilst ensuring global energy needs can be met. If this can be achieved in the next decade the planet could be closer than ever to a sustainable future.

NES Global Talent and Renewable Energy
At NES we're excited to see such a sustained and unprecedented growth in renewable technologies supporting the energy industry. Our discipline-specific consultants can support all stages of your renewable project life cycle, supplying skilled personnel from the funding, design and installation phases' right through to project management and grid installations.
We work on some of the most exciting renewables projects globally, from solar plants and wind farms to hydropower facilities, meaning we have plenty of renewable job opportunities for engineers looking to enhance their energy careers.