How Is Digital Transformation Changing The Middle East?
04 Jul, 2021
3:06
Digital transformation has been happening across the world for years now. However, the pande...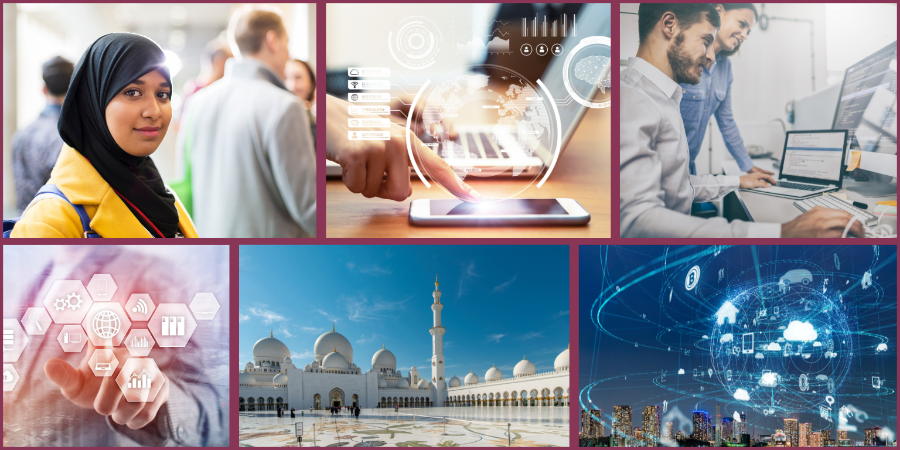 Digital transformation has been happening across the world for years now. However, the pandemic has both demonstrated how important it is and drastically accelerated progress. Depending on how you define the 'digital economy', its value has been estimated to range from 4.5% to 15.5% of world GDP. In some cases, it's estimated to be worth 11.5 trillion USD.
The Middle East has much to gain from digital transformation, and this is something governments across the region have caught onto. According to a Deloitte white paper on Digital Transformation initiatives in the GCC region, it has been estimated that every 20 percent increase in Information Communication Technology (ICT) investment results in an over 1 percent growth in a country's GDP.
But how exactly is digital transformation changing the Middle East, what are the challenges to digital adoption, and what opportunities do these present?
​

What's driving digital transformation in the Middle East?
Governments throughout the Middle East have been launching incentives to drive digital transformation forward, with the ultimate aim of accelerating economic diversification, encouraging sustainability and bettering satisfaction levels among citizens.
For example, national platforms, apps, and payment methods have been developed by different governments in order to share information and enhance accessibility of resources for inhabitants.
The digital programs of Middle Eastern countries are supported by technologies such as robotics, Internet of Things, artificial intelligence and cloud.
Not surprisingly, COVID-19 has been a huge accelerator in the push for digital transformation worldwide and within Middle Eastern industries such as online education, online healthcare, and online shopping.
For example, the Egyptian government dedicated 12.7 billion Egyptian pounds during the 2020 to 2021 fiscal year to support digital transformation. It also launched a "Digital Egypt" project. Other countries in the Middle East have also worked hard to build and expand existing internet infrastructure and to develop a positive environment for the digital economy.
The UAE also announced an economic revival project focussed on long-term investment in the digital economy through the development of advanced technologies such as 5G and artificial intelligence post-pandemic.
With such high numbers of young consumers throughout the region (75% of the population is millennial or Gen Z) and customer expectations getting higher and higher, digital adoption is set to keep on growing throughout the Middle East.
​

Challenges facing the Middle East's digital transformation
There are many challenges to a successful digital transformation that not only face the Middle East but also the rest of the world.
One of the main challenges is the sheer complexity of digital transformation. There are many considerations when it comes to digital transformation such as how to set up infrastructure, governance, and technology, whilst new organisational cultures and ways of working need to be adopted. Although it's obvious that a new digital landscape is carving itself out across the world, adapting to it is no easy task.
Funding, guidance and direction, long-term changes, data-management, organisation, company-wide integration, legacy systems and infrastructures, and finding the right talent are all hurdles that companies and businesses in the Middle East need to overcome to achieve effective digital transformation.
However, many companies are taking on this challenge. According to a recent info brief by IDC (International Data Corporation), 76% of manufacturers in the Middle East, Turkey, and Africa (META) region are currently engaged in, or about to start, a formal Digital Transformation (DX) programme.
​

The opportunities presented by digital transformation
​Although there are challenges to digital transformation, these challenges also present many opportunities. The need to update existing infrastructures and build new ones will involve creating many new jobs.
With technological discoveries and inventions occurring daily, and the whole industry being a relatively new one, it's a very exciting industry to be in and opportunities to build a successful career in tech are numerous . There's also a shortage of highly skilled personnel in tech, meaning the industry is keen to take on experts from other industries that are longer established.
Digital Transformation can help companies cut costs, improve productivity, and communicate with customers around the world. And the COVID-19 pandemic has demonstrated that companies who adopt and embrace digital technologies are more resilient to crises. So, it isn't surprising that governments and companies are setting new targets for digital transformation. With these changes, the Middle East is set to become a major technology hub.
NES Fircroft and supporting the Technology industry
NES Fircroft has been supporting the ICT industry for 20+ years. We are an experienced staffing provider to the ICT industry, supplying technical staff across: Digital Transformation, Cyber Security, Cloud Solutions and Telecommunications.
We work in partnership with our clients, offering a depth of expertise, a global talent network and a local market knowledge that will deliver complete ICT workforce solutions. Our dedicated ICT recruitment teams have an in-depth understanding of the challenges facing the industry and will mine our extensive global database to build you the talent pool you need for the future.
If you have an ICT staffing requirement, get in touch, or search our technology jobs to find your next position.