How Is The Automotive Industry Tackling Global Warming?
16 Jul, 2021
4:41
Governments around the world are setting ambitious targets to tackle climate change. For exa...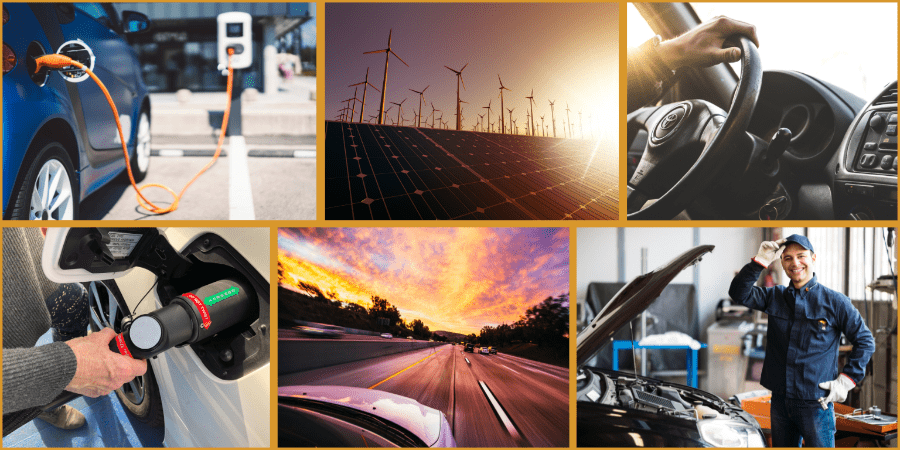 Governments around the world are setting ambitious targets to tackle climate change. For example, in late 2020, the European Union announced its plans for reducing carbon emissions by 55% over the next decade.
To meet these goals, stakeholders across the automotive industry are working hard to reduce their emissions.
For example, Volkswagen (VW) has pledged 33 Billion USD to electric vehicles (EVs) over the next few years. They have also partnered with Ford, BMW and Honda to meet California's emission standards throughout the United States, even though ex-president Donald Trump had reduced the targets previously set by Obama.
In Europe, companies like Volvo, VW and Daimler have all set goals for carbon neutrality between 2039 and 2050, following the EU's bid to be climate neutral by 2050.
So, what strategies has the automotive industry pioneered to combat climate change?

Many automotive companies are investing in Electrification
Exhaust emissions make up 80% of the life-cycle emissions of standard ICE (internal combustion engine) vehicles. With this in mind, it's no surprise that electrification within the automotive industry is currently seen as one of the most significant opportunities to reduce the industry's carbon footprint.
For example, Porsche have committed to electrifying more than half of their cars by 2025. However, the automotive industry does face some challenges in transitioning its fleets from ICEs to EVs.
Over the past few years, the industry has invested a lot of money into developing and building better charging infrastructure for electric vehicles, finding new technologies that reduce the overall cost of fuel cell and battery systems, and increasing EV ranges, which are getting ever closer to conventional combustion engines.

Not only that, but the transition to EVs has meant huge operational changes for automotive companies. For over a hundred years, most vehicles have been driven by the same combination of a mechanical transmission linked to an internal combustion engine.
With EVs, the system is completely different, with a large battery and electric motors moving the wheels. This difference in the powertrain in the vehicle involves an important operational shift, which many automotive manufacturers have been taking on in a very short space of time.
Although the take up of electric vehicles has been slow, their numbers are steadily increasing year after year. With both automotive companies and governments investing so much in electrification research and development, there is no doubt that one day, EVs will be the norm rather than the exception.
Green hydrogen - an attractive alternative for larger vehicles
Green hydrogen is seen by many within the automotive industry as an alternative fuel to power vehicles. With hydrogen as a fuel, power is created by converting the chemical energy of hydrogen into mechanical energy. This is either done by reacting hydrogen with oxygen in a fuel cell to power electric motors or, less commonly, by burning hydrogen in an internal combustion engine.
As of 2019, there are three different models of hydrogen cars available to the public: the Toyota Mirai (2014–), the Honda Clarity (2016–), and the Hyundai Nexo (2018–). Whilst some companies such as VW have expressed reservations toward hydrogen cars, others, such as BMW, have been exploring their potential.
Hydrogen technology enables fast refuelling times, like conventional gasoline, and long ranges on a single charge. Whilst hydrogen production emits high levels of CO2 when natural gases are part of the manufacturing process, it shows great promise when produced through renewable energies such as solar, hydropower, onshore and offshore wind. In this case, hydrogen is produced through electrolysis, powered by renewable energy.
With fuel cells, which convert energy stored in molecules into electricity, only oxygen (readily available in the atmosphere) and hydrogen are required.
Fuel cell electric vehicles (FCEVs) can offer better weight economy, which means this technology is a lot more interesting for powering larger vehicles, used for haulage, for example, which need to limit unnecessary weight. Hydrogen is also an attractive alternative for vehicles needing to travel long distances or need to refuel very quickly. Because of this, hydrogen has been of particular interest within the transport sector.
For example, there are projects across Europe which aim to test and deploy hydrogen buses, taxis, and other large vehicles. This has led to greater investment in refuelling stations and other infrastructure, a crucial part of FCEV roll-out.
One of these projects is the Joint Initiative for Hydrogen Vehicles across Europe (JIVE) project, co-funded by a 32 million euro grant from the FCH JU (Fuel Cells and Hydrogen Joint Undertaking) under the European Union Horizon 2020 framework programme for research and innovation, which will deploy nearly 300 fuel cell buses in 22 cities across Europe by the early 2020s – the largest deployment in Europe to date.
Internal Combustion Engines are to become more efficient
At present, 99.8% of worldwide transport is powered by ICEs and 95% of transport energy comes from liquid fuels produced from petroleum. Whilst electric and hydrogen-powered vehicles are on the rise and are set to take up an ever-growing proportion of the automotive market, ICEs are still very much the norm and will be for the foreseeable future.
So, although companies are investing in alternatives to ICEs, they are also making huge efforts to reduce the emissions of their traditionally powered vehicles. For example, VW are planning to reduce the average emissions of its new models by 30% by 2025.
One major way in which some automotive manufacturers are reducing the emissions of their ICEs is by choosing different materials in the manufacturing process, which have a lower carbon footprint. At present, materials are responsible for 18 to 22 percent of ICEVs' (internal combustion engine vehicles) life-cycle emissions. However, McKinsey research has shown that
'In some pathways to decarbonization, by 2030 about 66% of material emissions of a representative ICEV could be abated at no net material cost increase.' (as stated in the World Economic Forum's Forging Ahead: A materials roadmap for the zero-carbon car paper)
By choosing lower-carbon materials, suppliers and OEMs (original equipment manufacturers) are lowering their own carbon footprint whilst saving money -and this applies to EV manufacturing too.
Making ICEs more CO2-efficient also involves developing technologies for more effective combustion (higher cycle efficiency), lower intake and exhaust resistance (less pumping loss), and easier rotation (lower friction). A study by Felix Leach, Gautam Kalghatgi, Richard Stone, and Paul Miles published in the Transportation Engineering journal highlights that:
'Engine strategies could reduce CO2 emissions by 30%, hybridisation and light-weighting by 50%. … For instance, the best-in-class SI engines in the U.S. have 14% lower fuel consumption compared to the average. … With the most modern diesel vehicles, the exhaust can be cleaner than the intake air in urban centres.'
Whilst companies are investing a lot of money into alternatives to ICEs, they are nonetheless also making great advances in improving the models that still function with conventional internal combustion engines, making them a lot more CO2-efficient.

NES Fircroft and the automotive industry
The automotive sector is in constant flux and there are plenty of exciting new technologies being developed to meet international CO2 emission targets. With this constant evolution, there is a great need for top engineering talent.
NES Fircroft can source outstanding technical experts necessary to ensure industry innovation – if you have a staffing need, get in touch with our experts.
If you're looking for your next automotive job – we can help. Having been active within this industry for several years, we have strong relationships with some of the world's biggest companies in the automotive industry.
You can also sign up to our EngineeringPro newsletter to get industry insights delivered straight to your inbox.