Is Digitalisation The Key To The Future Of Oil & Gas?
15 Apr, 2022
3:58
The working conditions imposed by the global pandemic have demonstrated the benefits of digi...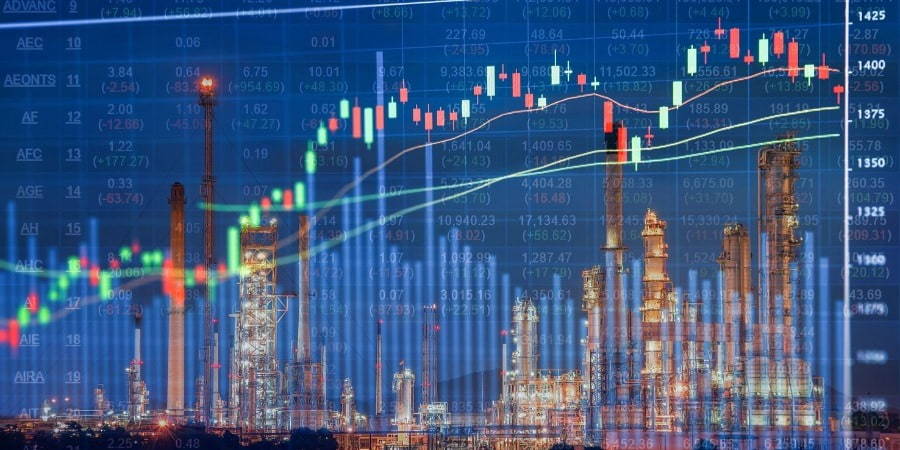 The working conditions imposed by the global pandemic have demonstrated the benefits of digitalisation within businesses. Across a vast range of technical industries, workers around the world are able to keep doing their jobs remotely, aided by a digital transformation in the way businesses operate.
Whilst the benefits of digitalisation can help the Oil & Gas industry significantly, many players within the sector are yet to change their ways of working. As recently as June 2019 we reported on the Oil & Gas industry's failure to score highly on Deloutte's digital maturity index - which showed the industry falling significantly behind the likes of Power & Utilities, Aerospace & Defense, Consumer Products, Telecoms and Automotive in quantifiable measurements of digitalisation advancements.
Despite the clear long-term benefits of implementing such systems, there are significant upfront costs to developing digitalisation processes, integrating them with existing workflows and training workers.
However, the recovery in oil prices following the dramatic fall in 2015 spurred many operators to re-evaluate the potential of Industry 4.0 in their workstreams. With business already disrupted, companies were more willing to consider new ways of working.
In a 2017 survey, nearly 40% of oil and gas companies said they were worried about the risk of being left behind if they didn't continue to invest in digital transformation programs - with 70% saying they planned to invest more in new digital areas over the following three to five years.

The same year, industry leaders polled by Sphera's Operational Excellence Index (OEI) were asked about the importance of digitalisation for the industry. At the time, 73% believed that the digital transformation would help them achieve operational excellence in a sustainable way. By 2019 that would rise to 90%.
In recent years greater investments have been made to incorporate new technologies and retrain workers through digital transformation programmes. But that view and that investment comes from the "top figures" in the industry - company heads, analysts, academics. What about those who actually work on Oil & Gas projects and deal with the day-to-day aspects of a changing workstream? Do they also value a shift in focus towards digitalisation?
Will the effects of Covid-19 spur a faster technology adoption for the oil and gas industry?
Global businesses are looking at digital solutions that will allow operations to continue whilst social distancing measures are in place. For many this means massive changes in priorities over the last two months and shifts in investment. Newer projects have had to make way for smarter working methods that will allow existing operations to continue.
But it's expected that digitalisation efforts won't simply be in place to tide over the "lockdown" period. Continuity is key now, but investment that goes into keeping the ball rolling during this time will still provide benefits in the future. And the benefits are significant. According to a study conducted in October by Rystad Energy, up to $100 billion can be saved from E&P upstream budgets through automation and digitalisation.
This represents roughly a 10% saving of the $1 trillion spend in 2018 by 3,000 companies in upstream operational expenditure, wells, facilities and subsea capital. Digitalisation and automation processes, used well, can account for massive efficiencies and increases in productive operations - through faster data gathering, problem solving, reduced downtime and increased production from a digital oilfield.
Aside from savings, there's also the increase in production that can be gained by implementing smarter technologies, AI, imaging technology and advanced data-gathering sensors. According to Deloitte, the application of existing digitalisation technologies could generate a further $1.6 trillion in global revenue.
How exactly can digitalisation transform Oil & Gas
According to software provider AVEVA - who specialise in supporting Oil & Gas companies - there are three primary ways:
Process optimisation with a digital twin
A "digital twin" is a virtual recreation of any element of a project - whether it's the full infrastructure or a smaller element such as a motor, turbine or pump. An accurate digital replica can allow real-time testing and analysis of operational data that will allow operators to easily spot improvements or efficiencies in their processes. AI software can also create predictive control, analysing and calculating complex variables to maximise results and suggest operational adaptations in line with changing legislative and market requirements.
Cloud-based process design
Cloud computing allows users to tap into vast amounts of processing power and storage to develop advanced process designs without the need for large capital investments. Because of less need for new infrastructure and training, digital modelling can be used on very specific elements of a project that otherwise couldn't be done at cost. It can also allow for greater digital connectivity on projects between different areas, allowing gathered data from multiple sources to quickly and effectively be integrated for improved digital planning and increased efficiencies.
Digital planning and operations
A digital overview of the entire supply chain model connects complex networks of silos in a way that provides a full 360-degree view of the value chain to be visualised, analysed and optimised in real-time. It can account for accurate planning of each stage by monitoring production status information and levels from a central, unified point of reference.
The other benefits of digitalisation
There are many other benefits of digitalisation, including the implementation of new, smarter ways of workforce management and allowance for more flexible employment structures. Plus there's improvements in safety through the use of intelligent sensors and artificial intelligence reducing the potential for human error.
The automation of repetitive tasks also allows specialists to spend more time and focus on complex analysis, improving the potential for spotting problems or delivering creative solutions.
However as the Oil & Gas industry moves forward in the current market, it is certain to involve a greater reliance on digital technologies.
The effectiveness of digitalisation processes and the speed at which they can be developed, in the midst of a period when projects are being shut down or cancelled, could be a major hope for an efficient industry future.
It's clear that this is a turning point for the way this sector operates.
Find your place in the future of the Oil & Gas industry
NES Fircroft has been recruiting engineering and technical professionals for the global Oil & Gas industry since 1970. Through 90 years' combined experience, we've supported professionals through the ever changing landscape of the energy market.
Register your CV with NES Fircroft to find out how we can help you secure your next energy job in upcoming projects with leading companies.