Six New Bio-LNG Initiatives As The Gas Industry Work Towards Zero Carbon
20 Oct, 2022
4:42
The Bio-Liquefied Natural Gas industry has seen rapid growth over the last couple of years, ...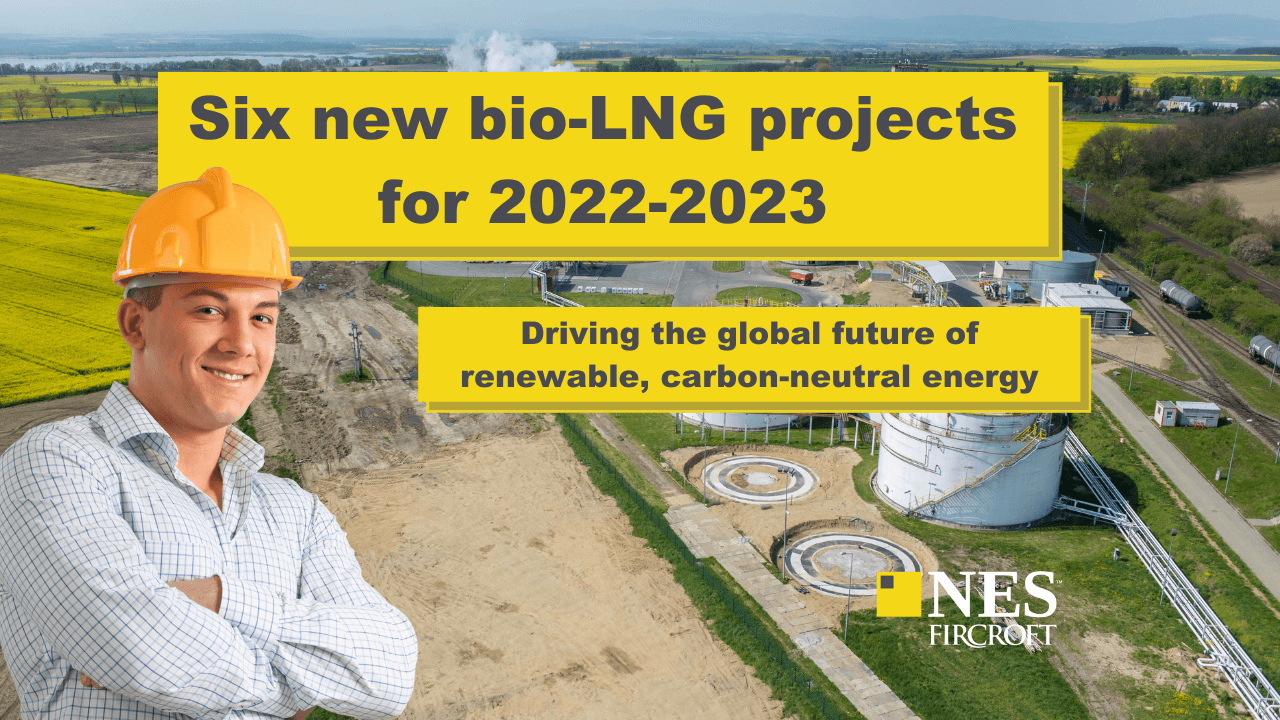 The Bio-Liquefied Natural Gas industry has seen rapid growth over the last couple of years, in response to a growing call for renewable alternatives to fossil fuels.
As a result, the global biogas market size was expected to grow at a CAGR rate of 4.3% per year from 2022 to 2030. And while the market in 2021 was dominated by companies in the US and Europe, biogas manufacturers are developing new projects globally to deliver a renewable, low-emission energy source, particularly for transport fuel and commercial heating.
New partnerships and facilities are in development globally, and we've looked at six of the biggest or most notable projects contributing to changing the oil and gas industry as we know it.
Summary
TITAN and BioValue building the world's largest plant in Amsterdam

ST1 and Wärtsilä selected for a new bio-LNG plant in Sweden

HAM Group and Cycle0 to construct Chile's first bio-LNG plant

Ecospray wins contract to build more German plants

Storengy and CM Fluids to build a bio-LNG plant in Germany

Shell continue construction of their German plant with three new bio-LNG tanks​
​
Titan to build 'largest' bio-LNG plant at Port of Amsterdam
Amsterdam-based Titan LNG has partnered with BioValue to build the world's largest biomethane liquefaction plant in the Port of Amsterdam. The project is set to produce 200,000 tonnes of LBM per year for the marine transport industry.
The plant will provide carbon-neutral fuel for transport ships and trucks supplied mainly by BioValue, with the remaining supplies being sold to refueling stations and industrial customers.
Titan's bio-LNG fuel will avoid about a million tonnes of CO2 equivalent emissions per year. Ensuring the project is fully sustainable, biogas for the plant will be sourced from sustainable feedstocks that are compliant with the EU Renewable Energy Directive and are International Sustainability and Carbon Certification (ISCC) certified.
The project is due to be ready to produce Liquefied Biomethane (LBM) by 2025.
"Titan is committed to decarbonise shipping by supplying LBM and any other renewable fuels such as hydrogen-derived methane, also known as E-LNG. Strategic value chain collaborations are paramount to ramping up alternative fuel production to the scale required for shipping. We are proud of the joint efforts with BioValue and look forward to a long-lasting partnership."
-Ronald van Selm, CTO, Titan

Wärtsilä solution selected for new bio-LNG plant in Sweden
Energy company St1, operating in Sweden, Finland, and Norway, has begun working with Finnish technology group Wärtsilä to supply a new biogas upgrading and liquefication solution for a new biogas plant.
The plant will be built near Borås in Sweden and is set to be operational by the end of 2023. It will be capable of producing 10 tonnes of bio-LNG a day.
This news follows from Wärtsilä's previous announcement in April 2022 that they will provide equipment for REEFUEL, the second largest bio-LNG plant in the world, based in Germany. This site, when operational, will have the capacity to deliver 63,000 tonnes of bio-LNG per year. This site is expected to be operational in 2024.
"St1 is committed to enhancing the production of sustainable energy and biogas will play an increasingly important role in this. We already operate Wärtsilä's biogas upgrading in Sweden and are happy to continue cooperation with the new liquefaction project,"
-Matti Oksanen, Director of St1's Gas Business

HAM Group, CycleØ to build and operate the first bio-LNG plant in Chile
Spain's HAM group has partnered with technology company CycleØ to build Chile's first bio-LNG plant in the Ñuble region of the country. Once complete, the site will produce between 7,500 and 16,500 m3 of biogas a day.
The plant will produce gas from waste supplies from a MaxAgro pig farm, ensuring local sustainability, while producing biogas with a methane purity of over 99%.
The project will provide a sustainable alternative fuel for Chile's heavy transport industry while reducing greenhouse gas emissions, providing an alternative waste disposal ecosystem, and creating jobs in the country in the renewable bio-LNG industry.
At Grupo HAM and CycleØ we believe that Bio-LNG must play a prominent role in the energy transition, reducing greenhouse gas emissions, thanks to its negative carbon footprint. In addition, the commitment to this fuel favors the circular economy, generating employment in rural areas, returning resources and nutrients to the soil, and as a sustainable alternative to incineration or landfills.
-Grupo HAM press release, 10.10.2022

Ecospray wins contract to build more German bio-LNG plants
Investment in the bio-LNG industry continues to grow in Germany. Italian engineering firm Ecospray announced that they will be working with Germany's Ruhe group and Agrarvereinigung eG Darchau to build three new compact bio-LNG plants in Bavaria, Saxony, and Brandenburg.
These plants are expected to be operational by autumn 2023.
In a statement from Ruhe Biogas, the first small bio-LNG plant in Darchau will use local farming waste to produce 3 tonnes of bio-LNG a day, saving up to 7,000 tonnes of CO2 annually.
This follows from Ecospray confirming work on three new plants in Lombardia and Campania, Italy. These plants will have a combined capacity of 24 tonnes of bio-LNG per day, with production scheduled for April 2023.
"Agricultural businesses can produce biogas self-sufficiently in the form of a circular economy using residual materials from their farms and businesses in their region and refine it into bio-LNG,"
- Statement from Ruhe, 10.09.2022

Storengy and CM Fluids to build a bio-LNG plant in Germany
Also in Germany, Joint venture: Storengy Deutschland and CM Fluids have partnered to produce bio-LNG for heavy vehicles. They will build a bio-LNG plant on the site of a biogas facility in the Nuremberg region.
Using locally sourced biowaste, the plant will produce around 700 tonnes of bio-LNG each year, which can be used to refuel up to 2,800 vehicles with carbon-neutral biomethane gas.
While this will be a smaller facility, it's an example of a growing demand for bio-LNG plants that are near large sources of biowaste, reducing transport and processing costs, and creating local engineering jobs alongside agriculture and waste processing.
"We see considerable potential in using bio-LNG to decarbonise the transport sector and achieve the German government's climate protection goals. With this project, we first want to expand our market position and then develop it further along the biomethane value chain. Our first major goal is to produce 1.2 TWh of biomethane per year by 2030."
- Daniel Mercer, Head of Business Development, Storengy Germany

Shell add three new tanks to their bio-LNG plant in Rheinland
Shell have been working on building what it says will be the largest bio-LNG production plant in Germany since February 2022 and have recently added three new LNG tanks.
The plant, at Shell's Rheinland refinery near Cologne, will supply biogas to the company's existing and growing German network of LNG stations across Germany. Shell is planning on having as many as 40 stations by the end of 2022, and the new plant is due for completion in the second half of 2023.
On completion, the plant will supply approximately 100,000 tonnes of bio-LMG to their network, as well as support the existing natural gas network.
Each of the tanks are 50 metres long and six metres high, and weigh about 246 tons, significantly increasing the capacity of the site.

NES Fircroft and bio-LNG
Our recruiters' source candidates for some of the biggest energy projects across the world, with jobs available across various industry verticals.
Through tailored workforce solutions, we'll help energy clients to staff their projects, and through demonstrable experience (we're proud to look after over 25,000+ contractors), our discipline-specific recruiters will help support contractors on their assignments, and help candidates prepare for the job market.