The Biggest Chemical Plants In The World
11 May, 2022
3:38
The chemical industry plays a vital role in the world's economy. By converting raw materials...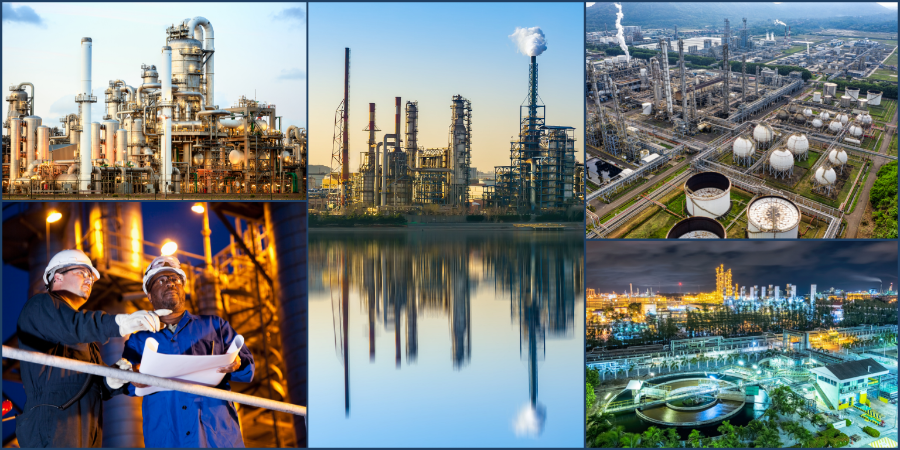 The chemical industry plays a vital role in the world's economy. By converting raw materials such as water, minerals, fossil fuels, and metals into hundreds of thousands of different products, the industry makes life as we know it possible.
Not surprisingly, the chemical sector's income is astronomical. In 2020, it reached nearly $3,818 billion, supplying basic chemicals, pharmaceuticals, specialities, agricultural chemicals, and consumer products to companies and consumers all around the world.
It's hard to imagine just how much of an impact the chemical industry has on our daily lives or its sheer magnitude. So where are the largest chemical plants in the world and just how gigantic are they?
​
Ludwigshafen Chemical Complex, Germany – BASF
BASF's Ludwigshafen site covers approximately 10 square kilometres and is the world's largest integrated chemical complex. There are about 200 production plants on the site manufacturing thousands of different products.
It is also home to the company's headquarters. As such, it exemplifies the company's Verbund concept, where manufacturing facilities, energy flows and logistics are in the same place, linked together so that resources are used as efficiently as possible.
The Verbund concept originated at this site and since its first conception, BASF has developed five other Verbund sites in Europe, the United States and Asia.
BASF is the largest employer in the region and the Ludwigshafen site is responsible for about a third of the company's total workforce, representing approximately 39,000 people.
​
BASF-YPC Nanjing Complex, China – BASF-Sinopec JV
BASF-YPC Co. is a joint venture between BASF and Sinopec that was founded in 2000. The integrated petrochemical site, worth a $5.5 billion investment, produces approximately 3 million tons of polymers and other chemicals every year.
These products are then used in a whole range of industries including:
agriculture

automotive

chemical manufacturing

construction

electronics

pharmaceuticals
Commercial operations on the site started in 2005 and an expansion of the fine-chemicals production capacity was conducted in 2012.
There are also acrylic acid, superabsorbent polymer, butyl acrylate, and Neopentylglycol (NPG) production facilities on site. As of 2020, ethylene accounted for the largest share of chemicals produced on-site (16.2%, 0.74mtpa).
The Nanjing site follows BASF's Verbund concept, meaning all the facilities in Nanjing are interconnected so that products, by-products, and energy can be used optimally.
Currently, the complex has an active annual capacity of 4.57mtpa and it's expected that this will increase to 5.57mtpa in 2030.
​
Freeport Complex, United States – Dow
Dow's Freeport Complex is a petrochemical site located in Texas. Production for the site started in 1940 to extract magnesium from seawater.
This site is Dow's largest integrated manufacturing site, with a production capacity of 7.98mtpa. It's also North America's largest chemical complex, employing more than 7,000 people every day.
The Freeport Complex includes 65 manufacturing units. It produces 44% of the company's products sold in the US and 20% of Dow's products sold worldwide.
The main product produced at the Freeport Complex is ethylene (45.5%). The site also manufactures propylene, polyethylene, and propylene oxide, amongst other things.
The company started operations of its new ethylene and plastics plants in Freeport in 2017, making it the United States' first company to start a major ethylene project along the Texas Gulf Coast. This came as part of Dow's $6 billion expansion along the Gulf Coast.
​
Sadara Chemical Complex, Saudi Arabia - Sadara Chemical Company
The Sadara Chemical Complex is owned and operated by the Sadara Chemical Company, a joint venture between Saudi Aramco and The Dow Chemical Company (Dow). It's the world's largest-ever integrated chemical complex to be completed in a single phase and represents the largest ever foreign direct investment in the Saudi petrochemical sector.
Construction for the project, worth $20 billion, started in 2011 in the Jubail Industrial City II on the east coast of Saudi Arabia. Jubail was chosen because of its access to the growing chemical activity in the region and wider Asia.
This mega-project, covering 6 square kilometres, involved the construction of 26 production units capable of manufacturing over 3 million tons of high-value chemicals and performance plastics annually. Not only that but 14 of these 26 plants would be making chemicals never before produced in Saudi Arabia.
Full commercial operations for the site started in 2017 and the complex employs more than 4,300 people.
Port of Antwerp Integrated Chemical Cluster, Belgium
The Port of Antwerp is Europe's largest chemical cluster, covering more than 40 square kilometres and home to some of the world's largest chemical companies.
Seven of the ten world's biggest chemical companies are present in Antwerp and the cluster has received investment from majors such as BASF, TotalEnergies, Lanxess, and Evonik.
The Port of Antwerp also has Europe's largest storage capacity within the petrochemical industry, with 8.3 million square metres of tank storage and 750,000 square metres of silo storage. It's also the largest producer of ethylene in Europe.
All the manufacturing and storage companies on-site are interconnected by more than a hundred different product pipelines spanning a thousand kilometres in length.
The port is also extremely well connected making it perfect for worldwide chemical distribution. Alongside the Port of Bruges, it has direct services to 1,300 ports in North and South America and West Africa. It's also perfect for trade in Europe due to its central location and proximity to German and French industrial hubs.
​
NES Fircroft and supporting the Chemical Industry
NES Fircroft has been supporting engineers, candidates, and technical clients across many industries throughout the past 50 years. We understand how important it is to find the right mix of forward-thinking mindset, technical knowledge, and behavioural excellence in the recruitment process.
Our chemical recruitment team will deliver technical resources to your business, sourcing key hires that fit seamlessly into your company, whether you're an operator or a start-up. If you're looking for your next technical chemical job, you can register on our website or search for available roles.