The Top 10 Biomass Companies in the World
24 Nov, 2021
3:45
The global biomass market is rapidly expanding, and many companies are leading the way in th...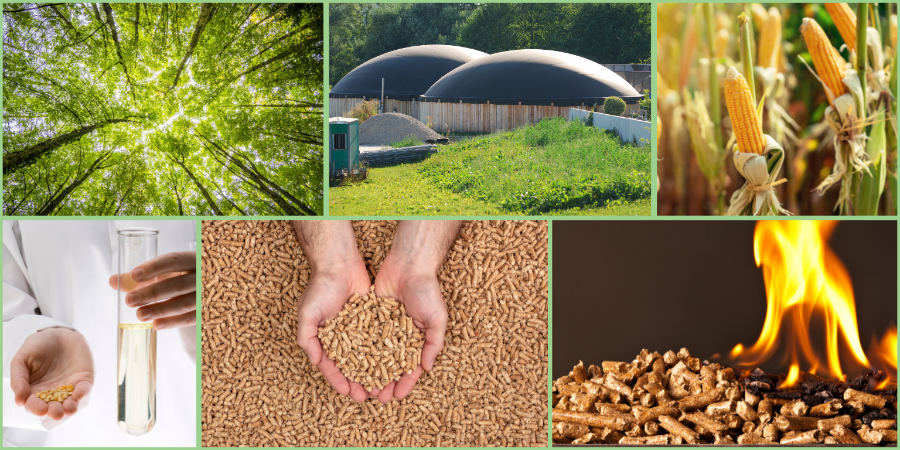 The global biomass market is rapidly expanding, and many companies are leading the way in the growth of the biomass industry. These companies are investing in new biomass technologies and projects and are helping to make biomass a more affordable and accessible energy source. In the blog, we'll delve into the top 10 biomass companies in the world to show you which industry innovators are pioneering progression within the biomass space.
However, before we explore the world's top 10 biggest biomass companies, let's answer the question, what is biomass? How is it used? And what are the benefits of it?

What is biomass?
Biological conversion to produce liquid and gaseous fuels
Chemical conversion to produce liquid fuels
Direct combustion (burning) to produce heat
Thermochemical conversion (includes pyrolysis and gasification) to produce solid, gaseous, and liquid fuels
For their continuous innovation within biotechnology, they have been included in Fortune's 2019 'Change the World' list and as one of Fast Company's 'Most Innovative Companies of 2019.'
3 .Drax Group
With a market cap of $1.94 Billion, they currently have 11 biorefineries across the US, 17 ethanol production facilities, and process 10 million tons of corn annually. Moreover, they have an annual production capacity of 1 billion gallons of low-carbon biofuels. The company distilled its first gallon of biofuel in 2007 and has since become a global leader in their field.
From 2007 until 2019, Green Plain's biofuels were responsible for reducing 34.3 million metric tons of CO2, equivalent to removing 7.4 million cars off the road.
According to the United States Department of Agriculture (USDA), every gallon of their biofuel diminished greenhouse gas emissions by 46% compared to the same measure of traditional gasoline whilst avoiding harmful additives found in petroleum-based fuels, including benzene, ethylbenzene, toluene, and xylene.
The company has 23 production plants - 21 of which are located in Sao Paulo and have additional facilities in the pipeline. Cosan is Brazil's largest sugarcane producer and the third largest globally. The company has the capacity to produce 56 million tonnes of sugar cane a year and has a market cap of $5.67 Billion as of April 2023.
Cosan is also the world's fifth-biggest ethanol producer and the world's largest ethanol exporter. With 55,000 employees, the organisation is committed to supporting the sustainability and development of Brazil through investing in the value chain of natural resources and the renewable energy transition.
6. Enviva
Enviva is the world's largest manufacturer of sustainable wood pellets, focusing on wood-based bioenergy as an alternative energy source to coal. Founded in 2004 with a headquarters in Maryland, US, the company converts existing coal plants into biomass manufacturing facilities that operate 24/7 and provide utility customers with reliable and sustainable renewable energy, whether it be heat or electricity.
With facilities in Alabama, Florida, Georgia, Mississippi, North Carolina, South Carolina, and Virginia, while having a global presence in the UK, Japan, and Germany, Enviva employs over 1,300 people across its locations.
As a specialist in sustainable wood energy, Enviva is on a mission to displace fossil fuels, plant more trees, and combat climate change through its bioenergy solution. In 2021, Enviva announced its goal of achieving net zero in all its operations by 2030. The target of being 100% renewable energy reliant by 2030 has a halfway objective of being at least 50% on their way to net zero by 2025.
7 . VERBIO
VERBIO is a German biofuel technology company committed to sustainably manufacturing a range of products from waste-based biodiesel, biogas, biomethane, and ethanol. Its biofuel products steer clear of conventional production methods and are solely created by farming residue. Moreover, VERBIO's biofuel products are one of the most energy-efficient in the world and can reduce CO2 emissions by up to 90% compared to diesel, petrol, and other fossil fuels.
With a market cap of $2.55 Billion, the company is at the forefront of Europe's biofuel producers. VERBIO has a vision of replacing fossil fuels with renewable materials and is striving to become the alternative energy supplier of the 21st century.
By 2025, VERBIO aims to reduce CO2 to 8 million tonnes through biofuel solutions after saving 2,6 million tonnes of CO2 from 2021 to 2022. From its plants throughout Germany, with affiliates in India, the US, Canada, Hungary, and Poland, VERBIO produces 660,000 tonnes of biodiesel, 300,000 tonnes of bioethanol, and 1,300 gigawatt-hours of biomethane annually.
Enerkem was founded in 2000 and is the world's first company to manufacture renewable biofuels, ethanol, and methanol, from non-recyclable waste materials for commercial use.
With a focus on the circular economy, their vision is to help reduce 90% of the planet's waste and the need for fossil fuels by producing biofuels to power vehicles or manufacture various everyday products to be used by communities around the world.
Born out of Montreal, Quebec, Canada, the company has a global presence, expanding into the US and Europe in recent years. In 2021, Enerkem partnered with Shell and Port of Rotterdam to help produce sustainable aviation fuel in the Netherlands. Then, most recently, in 2022, they closed $255 million in financing to drive the deployment of its innovative biofuel solutions.
EnviTec is one of the world's leading biogas producers, manufacturing sustainable biofuels from biomass. Specialising in customised plant and green concepts for biomethane, heating, and electricity marketing, the company works with local partners within the agriculture and renewable energy industry.
Founded in Lohne, Germany, in 2002, Envitec has more than 600 biogas and biomethane production facilities worldwide, with a prominent presence in the UK, France, Italy, Denmark, the Czech Republic, Asia, and North America.
As of 2007, they have been listed on the Frankfurt stock exchange, and since starting with just 20 employees almost two decades ago, EnviTec has grown into a global organisation with 430 employees and currently has a market cap of $609 million.
10. CropEnergies
CropEnergies is a renewable energy company with a vision for creating a climate-friendly world by helping to displace fossil fuels by producing biobased products - where only renewable agricultural materials are used from biodiverse locations across Europe.

Founded in Mannheim, Germany, in 2006, with 455 employees as of February 2022, CropEnergies produces 1.3 million m³ of sustainable ethanol for fuel purposes, along with roughly 150,000 m³ of sustainable ethanol for traditional and technical applications annually. Additionally, they manufacture biomass products for the food and beverage, animal feed, cosmetics, and pharmaceutical markets.

To date, CropEnergies ethanol production has saved an average of 70% CO2 and greenhouse gases compared to fossil fuels. Additionally, with a market cap of $1 Billion, CropEnergies aims to be climate-neutral by 2050 across its various production sites in Germany, Belgium, France, and the UK.
It's clear that the 10 companies listed in this article are at the forefront of the future of biomass energy, playing an increasingly important role in the global energy mix. In addition to the companies listed above, many other biomass companies are making significant contributions to the biomass industry, and perhaps we'll see these enter our top 10 list in the future.
Ultimately, though, the top 10 biomass companies in the world we've discussed are well-positioned to continue to lead the way in the development and use of biomass energy. The future of biomass energy is bright, and the companies spearheading the industry are significantly contributing to the fight against climate change.
​NES Fircroft and supporting the Renewable Energies Industry
NES Fircroft has supported the renewable energy sector for over 20 years. We actively partner with our clients, offering a wealth of knowledge, a global talent network, and in-depth local market understanding. As a result, we can deliver complete renewable energy workforce solutions.
Because we are present on some of the most exciting renewable energy projects globally, we have plenty of renewable job opportunities for engineers looking to enhance their careers in energy.
Our dedicated renewable energy recruitment teams keenly understand the industry's challenges and can mine our extensive global database to build you the talent pool you need for the future.