The Top Biotech Companies To Watch
15 Sep, 2021
3:51
The global biotechnology market is thriving. In 2020, its revenue was 108.2 billion USD, whi...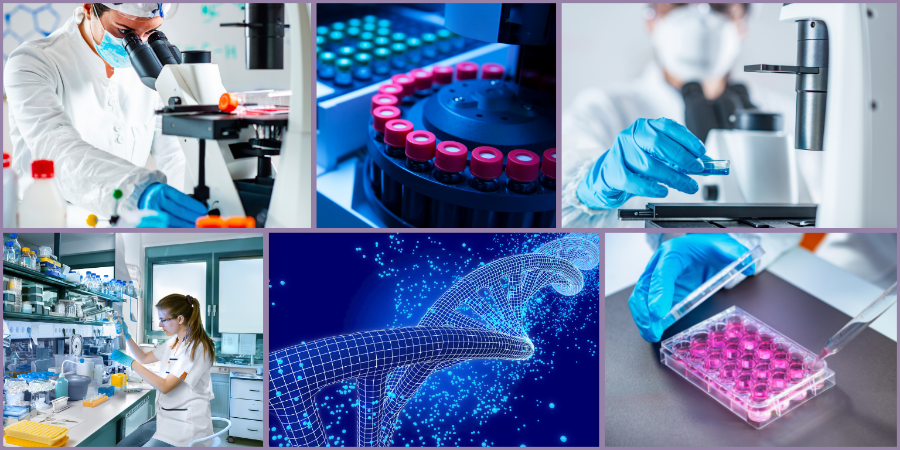 The global biotechnology market is thriving. In 2020, its revenue was 108.2 billion USD, whilst its global market value came in at 752.88 billion USD. This level of growth is expected to continue at a compound annual growth rate (CAGR) of 15.83% from 2021 to 2028.
It's also predicted that the employment rate within the biotech industry will grow by 5% between 2019 and 2029, creating thousands of jobs for technical workers. If you're looking to enter the Biotech space, here are the top companies contributing to the industry's growth which you should watch out for.

AB Science
AB Science was founded in France in 2001. The late-clinical-stage company was created to develop innovative drugs for highly unmet medical needs, including inflammatory diseases, cancers, and pathologies affecting the central and peripheral nervous systems. They currently have more than a hundred employees, mainly working within research and development.
At present, AB Science is working on the development of two compounds: AB8939, a new generation microtubule destabilizer, and masitinib, a highly selective tyrosine kinase inhibitor. Their unique indication portfolio encompasses a range of late-stage programmes including orphan diseases and blockbuster potential.
For instance, masitinib has already led to positive phase 2B/3 results in:
Alzheimer's Disease

Amyotrophic Lateral Sclerosis

First Line Pancreatic Cancer with Pain

Indolent Systemic Mastocytosis

Metastatic Castrate-Resistant Prostate Cancer

Progressive Forms of Multiple Sclerosis

Severe Asthma
In 2020, the drug succeeded in preventing patients presenting moderate symptoms of Alzheimer's disease from developing severe dementia in a phase IIb/III study. If the results remain consistent in a follow-up phase III trial, this could mean a massive breakthrough within the field of Alzheimer's disease treatment, which has seen a few setbacks in recent years with a few late-stage trial failures.
COMPASS
COMPASS, established in 2016 in London, UK, is a mental health care company that develops psychedelic treatments against clinical depression. Their primary focus is on psilocybin, a hallucinogenic substance found in magic mushrooms.
Their first major initiative has been to develop a psilocybin therapy (which combines the pharmacological effects of psilocybin, a psychoactive substance, with psychological support) through the world's first large-scale late-stage clinical trial. This is happening across 20 sites in North America and Europe and could help people with treatment-resistant depression.
In April 2020, COMPASS completed a €68M Series B funding round, which was then followed by a €108M Nasdaq IPO in October 2020 to help commercialise the company's drugs. The data for the phase IIb study of COMPASS's psychedelic treatment for depression is expected to come out this year.
CRISPR Therapeutics
CRISPR Therapeutics, headquartered in Zug, Switzerland and founded in 2013, specialises in the development of gene-based medicines for serious human diseases, using their gene-editing tool CRISPR-Cas9. Their work has applications within hemoglobinopathies, cancer, diabetes, and other diseases.
In collaboration with Vertex Pharmaceuticals, CRISPR Therapeutics is working on the development of the drug CTX001 for the treatment of the rare blood disorders sickle cell disease and Beta thalassemia. Their first allogeneic CAR-T program targeting B-cell malignancies has also entered clinical trial and results are expected for 2021. Furthermore, CRISPR Therapeutics is advancing additional blood stem cell, regenerative medicine, immuno-oncology, and in vivo programs towards clinical trials.
Currently, their research and development operations are based in Cambridge, Massachusetts.
Exscientia
Exscientia, founded in 2012, applies Artificial Intelligence (AI) to precision engineer medicines more rapidly and efficiently. By combining experimental innovation and innovative AI, they aim to create new processes for drug discovery. They were the first company to automate drug design and to have an AI-designed molecule reach clinical trials.
In 2020, they launched a phase I trial for a drug against obsessive-compulsive disorder. The trial is being run by their partner Sumitomo Dainippon Pharma and took only 12 months to start being tested on humans. This is extremely short, considering it generally takes years to reach this stage.
Exscientia is also collaborating with other major life science companies including Sanofi, Celgene, and Bayer. They also completed a €54M Series C financing round in May 2020 to grow their AI drug discovery technology further.
​Gedea Biotech
Gedea Biotech, founded in 2015 in Lund, Sweden, is a women's health company working on the development of an antibiotic-free treatment, called pHyph, that both prevents and treats bacterial vaginosis (BV). Gedea Biotech's work could have a significant impact, as about 75% of women will have a vaginal yeast infection at some point in their life, whilst 5-15% of women have BV right now.
The company is developing pHyph as a local treatment that could both cure and prevent recurrent bacterial vaginosis. The drug works by restoring the pH balance to its natural level, limiting the growth of infectious bacteria, and reducing the risk of recurrent BV.
In a concluded trial, 82% of the subjects were clinically cured of bacterial vaginosis after seven days. The tablet is so safe to use that it could be sold over the counter.
SOPHiA GENETICS
SOPHiA GENETICS, founded in 2011 and headquartered in Lausanne, Switzerland, is a data-driven genomics company. They have created a global data-sharing network, working with customers from more than 780 institutions in over 70 different countries.
Their product, SOPHiA DDM, is a global cloud-based Software-as-a-Service platform. This collaborative AI platform enables drug developers and healthcare professionals to analyse and translate complex and disparate medical data, to improve diagnosis, treatment, and drug development. The platform provides insights and analysis across diverse disease areas, from oncology to inherited disorders.
In 2017, SOPHiA GENETICS was ranked amongst the 50 smartest companies by the MIT Technology Review. In October 2020, they successfully concluded a series F funding round, raising more than 90 million euros.
NES Fircroft and the Life Science industry
NES Fircroft has been supporting the Life Science market for over 20 years, sourcing personnel for engineering, scientific and commercial roles across the market. We recruit highly experienced professionals to the biotechnology, pharmaceutical, diagnostics, and medical devices industries. We can provide both permanent and contract candidates to the Life Science industry across Quality, Clinical, Regulatory/Compliance, and Engineering disciplines.
If you're looking for skilled personnel, get in touch with our dedicated Life Science Recruitment teams to find out how we can support you.
Are you looking for a new job? Browse our biotech and Life Science vacancies today.