Top 5 most searched alternative and renewable energy jobs
21 Sep, 2023
9 min
Renewable energy jobs reached 12.7 million worldwide over the past two years, according...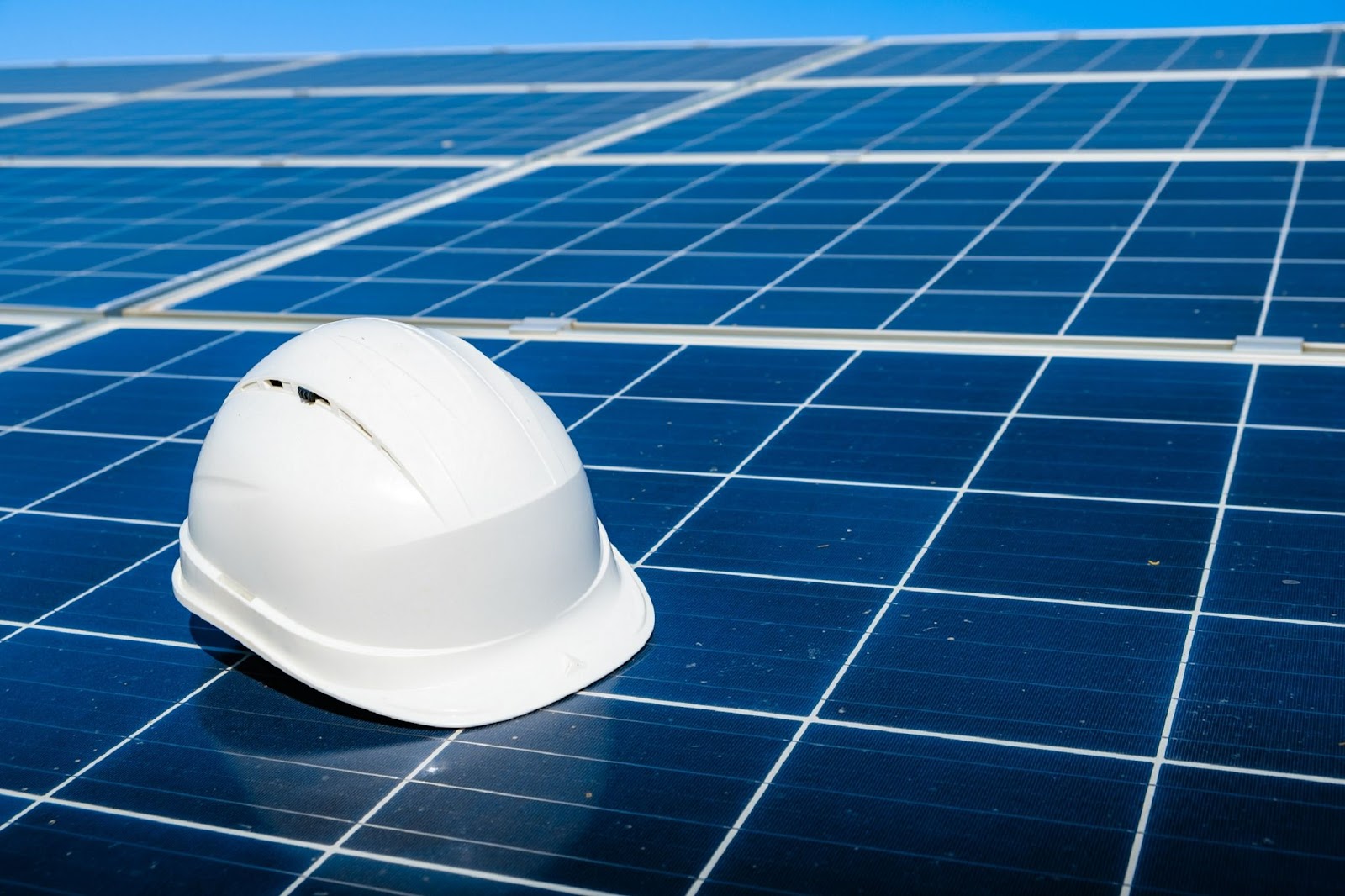 Renewable energy jobs reached 12.7 million worldwide over the past two years, according to a report by the International Renewable Energy Agency (IRENA) with support from the International Labour Organization (ILO). In the UK alone, jobs in renewable energy are increasing four times the rate of the rest of the UK market, according to The Guardian.
Therefore, it's no surprise that there's a demand for alternative and renewable energy jobs, but what jobs are there in renewable energy and which roles are people searching for the most? We've collated a list of 5 of the top jobs in renewable energy and will explore each of the roles in detail, from what you can expect from the roles, the skills and qualifications needed, career prospects and average salaries.
Below are the five alternative and renewable energy jobs we'll delve into:
Wind turbine technician
Energy analyst
Nuclear engineer
Renewable energy consultant
Solar installer
1. Wind turbine technician
Responsible for the installation and general maintenance of various turbines, whether for onshore or offshore wind farms, a wind turbine technician is one of the most sought-after renewable energy jobs for both candidates and companies.
What does a wind turbine technician do?
Operating within the wind energy industry, a prominent renewable energy source, a wind turbine technician ensures wind turbines operate at optimum levels throughout the year, helping harness the wind's power to produce electricity.
Working on some of the world's largest onshore and offshore wind projects, wind turbine technicians will diagnose and repair any faults and malfunctions with the wind turbine. These could be mechanical, electrical or hydraulic and relate to various turbine parts, from the nacelle, tower or blades.
Below is a summary of the day-to-day responsibilities of a wind turbine technician:
Install wind turbines for the latest onshore and offshore projects
Conduct regular inspections of the wind turbines to ensure they operate optimally
Identify, diagnose and repair any electrical, mechanical or hydraulic faults within the turbines
Order spare and new parts to be replaced on the turbines when needed
Monitor wind turbine data and analyse the results to further improve the infrastructure
Wind turbine technician skills and qualifications
Below are some of the main skills and qualifications needed to become a wind turbine technician:
A qualification in a mechanical or electrical engineering course or a certificate in wind energy technology
Capable of working outdoors, at great heights and in confined spaces
Excellent interpersonal, teamwork and communication skills
Expertise in all aspects and parts of a wind turbine
Technical ability to identify and resolve faults with a turbine
Career prospects of a wind turbine technician
You could progress into project management roles or specialise in becoming a wind turbine service technician or a wind turbine mechanic. Whichever position you embark on, the career prospects of a wind turbine technician are highly positive.
According to the US Bureau of Labour Statistics, the projected growth for wind turbine technician jobs is expected to be 44% between 2021 and 2031, far greater than all other occupations.
Additionally, the Global Wind Organisation (GWO) and Global Wind Energy Council (GWEC), in their Global Wind Workforce Outlook 2022-2026 report, stated a 33% growth in recruitment and training to support wind turbine technician jobs. This growth reveals the need for 568,800 wind turbine technicians by 2026.
The GWO also reveals that 142,000 new technicians will be needed by 2026, with 450,000 technicians to be presented with an opportunity to complete their GWO industry-standard training. Of these 450,000 technicians, 80% will find wind turbine technician jobs in the countries below.
China
USA
India
Brazil
Japan
Vietnam
South Korea
You could also secure wind turbine technician jobs across Europe, including the largest offshore wind farm, Hornsea 2, located just shy of 90 metres off the Yorkshire coast, consisting of 165 wind turbines with the capacity to generate electricity for over 1.4 million UK households.
How much does a wind turbine technician make?
According to Talent.com, the average UK wind turbine technician's salary is £32,000.
2. Renewable energy analyst
A renewable energy analyst is a professional who uses their knowledge of alternative and renewable energy sources to help organisations reduce their reliance on fossil fuels. They conduct energy audits, develop energy efficiency plans, and recommend renewable energy technologies.
What does a renewable energy analyst do?
Renewable energy analysts will support businesses and homeowners to make their buildings and properties more efficient from an energy standpoint. They will collate and analyse data surrounding the infrastructure's energy consumption and usage patterns to support the development of energy models to help the client reduce their carbon emissions output whilst maximising their energy efficiency.
When developing energy models, renewable energy analysts will provide expert recommendations to the clients they work with concerning the latest technologies that can optimise energy usage for the client.
As part of these strategies, a renewable energy analyst will liaise with the contractors working on installing these renewable energy technologies, for example, installing solar panels onto a property to generate sustainable electricity for the homeowner. Here, renewable energy analysts will assist with planning, designing and implementing the strategy.
Here's a breakdown of the responsibilities of a renewable energy analyst:
Conduct energy audits and data analysis on infrastructure to determine where energy can be saved
Advise clients on how they can cut costs and optimise their renewable energy efficiencies
Provide recommendations to clients on renewable energy technologies, from solar panels, wind turbines and biomass boilers
Create energy efficiency plans spearheaded by alternative and renewable energy solutions to reduce a business or homeowner usage of carbon emissions
Offer technical support to contractors working on renewable energy installations
Renewable energy analyst skills and qualifications
Discover some key skills and qualifications you need to become a renewable energy analyst:
A deep knowledge of the various industries within the alternative and renewable energy space, from solar energy to wind energy
Ability to audit and analyse data to evaluate the energy efficiencies of infrastructure
Problem-solving skills to find solutions to optimise the renewable energy output of a client
Capable of working in a team to create renewable energy projects whilst being able to liaise with contractors on renewable energy installations
A bachelor's degree in energy or environmental engineering, sustainable development, surveying, energy management, architecture or related subject
Career prospects of a renewable energy analyst
Renewable energy analyst jobs are expected to increase by 14% from 2018 to 2028, making the role highly sought-after. You could start out as a renewable energy analyst in a consultative or project manager role before progressing to a more senior-level position as a vice president within an organisation.
Additionally, you could specialise in a specific area of renewable energy. One popular role you could progress to is a wind energy analyst. Here, you could be responsible for analysing different models of wind turbines to measure the efficiency of wind energy production.
How much does a renewable energy analyst make?
According to Glassdoor, the average UK energy analyst salary is £33,000.
3. Nuclear engineer
Next on our list of alternative and renewable energy jobs is that of a nuclear engineer. These professionals are pioneers within the alternative energy space, making it one of the most searched jobs within the alternative and renewable energy industry. They are responsible for generating nuclear power through researching, designing and building various nuclear applications and technologies relating to radiation cores.
What does a nuclear engineer do?
Working within the nuclear engineering specialism, professionals within this space utilise the principles of nuclear engineering, physics, and mathematics to design, build and operate nuclear energy systems and power stations.
The role of a nuclear engineer is vast, and roles could see you responsible for working on the development of new nuclear energy projects and optimising and maintaining existing systems to enhance the sustainability and efficiencies of global nuclear power plants.
Additionally, you could support decommissioning nuclear facilities, which is an immensely important responsibility. Here, you will apply expertise in the health and safety, transportation, storage and disposal of radioactive materials.
Below are some of the primary duties and responsibilities of a nuclear engineer:
Planning, developing and building nuclear fuel cycles, reactors and waste disposal systems
Conducting research and staying updated on the latest developments in nuclear engineering and nuclear physics
Managing the operations and general maintenance of nuclear power stations
Ensure the public is protected from radiation exposure produced by nuclear facilities
Developing new nuclear technologies, optimising existing systems and decommissioning nuclear power plants
Nuclear engineer skills and qualifications
If you're looking to become a nuclear engineer, here are some of the skills and qualifications you should have:
Problem-solving and critical thinking skills with the capability of finding solutions to issues relating to the construction or repairs of a nuclear energy system
Analytical skills to analyse and monitor the performance of nuclear power stations
Ability to manage and oversee complex machinery with great attention to detail
Deep knowledge of safety laws relating to nuclear energy usage
A high-level qualification in nuclear, hydraulic, chemical, civil, mechanical or electrical engineering. Other related courses in physics or chemistry could also help you progress in your nuclear engineering career
Career prospects of a nuclear engineer
With more than 400 nuclear power plants in operation across over 30 countries and 60 currently in construction in countries such as China and India, opportunities within this space are in demand. Additionally, the employment rate of nuclear engineer jobs is projected to grow by 4% from 2016 to 2026, with training and development opportunities crucial to helping clients combat the skills shortage within this niche.
The prospects of a nuclear engineer career are excellent, and you could progress to playing your part in contributing to the supply of nuclear power to the global population, the second largest source of low-carbon energy in the world, accounting for almost 10% of the globe's electricity.
How much does a nuclear engineer make?
According to Indeed, the average UK nuclear engineer's salary is £45,000.
4. Renewable energy consultant
As a renewable energy consultant, you'll be responsible for supporting clients of all sizes with the renewable energy transition. In this highly rewarding position, you'll play a significant part in helping to reduce or even eliminate an organisation's reliance on carbon emissions and environmental impact on the planet.
What does a renewable energy consultant do?
With more companies seeking to improve their environmental impact and positively contribute to climate change, renewable energy consultants help advise businesses with their decision-making and strategies towards harnessing the power of renewable energy sources.
Renewable energy consultants are advocates for helping global organisations and fast-growing start-ups adopt environmental best practices. They will work with a business to identify its energy production and consumption, performing data analysis to evaluate a company's environmental impact. With this information, they will help determine the areas where renewable energy technologies can replace more traditional energy systems within a company's infrastructure.
The information a renewable energy consultant uses to support their client's environmental strategies comes from their deep knowledge of the alternative and renewable energy space and other global carbon reduction acts and green policies most relevant to the business they support.
Additionally, they will be responsible for conducting surveys and offering expert guidance on how public and private sector organisations can tackle climate change. They will also oversee the designs, installations and budgets of new infrastructure, focusing on using sustainable materials and renewable energy solutions on the various projects they work on. Ultimately, renewable energy jobs come with various responsibilities.
Here's a summary of the main duties you should know:
Conducting environmental impact assessments for global organisations of various sizes in the public and private sector
Advising clients on how to abide by the necessary carbon reduction and green policies acts
Provide recommendations for the sustainable materials to be used on projects
Help plan, design and build infrastructure with a focus on alternative renewable energy solutions
Estimate the energy production of a business through surveys and data analysis
Renewable energy consultant skills and qualifications
Here are some of the key skills and qualifications successful renewable energy consultants are equipped with:
Excellent critical thinking and problem-solving skills
Ability to research and stay up-to-date with the latest alternative and renewable energy developments
Strong written and verbal communication skills with an ability to guide and advise clients looking to reduce or eliminate their environmental impact
Solid numerical and data analysis skills
A bachelor's degree in environmental science, energy management engineering or a related field
Career prospects of a renewable energy consultant
Renewable energy consultant jobs allow you the opportunity to make a positive difference to the planet by offering sustainable solutions to some of the world's largest organisations.
Otherwise known as a green consultant or environmental scientist, the outlook for career prospects within this space is fantastic. In the US alone, roles within this niche are projected to grow by 8%. Job postings are estimated to reach over 94,000 by 2030, with states such as Texas, California, Florida, New York and North Carolina showing the fastest job growth. You could also choose to specialise as a solar energy consultant or hybrid alternative and renewable energy consultant; whichever route you embark on, a career as a renewable energy consultant offers many excellent opportunities.
How much does a renewable energy consultant make?
According to Glassdoor, the average UK renewable energy consultant salary is £36,000.
5. Solar installer
Our final entry in our list of the most searched alternative and renewable energy jobs is that of a solar installer. Responsible for implementing solar panel photovoltaic (PV) systems on various infrastructures within the public and private sectors, these types of solar jobs are helping businesses and people transition into harnessing the power of clean energy.
What does a solar installer do?
While installing solar panels is a significant responsibility of the role, solar installers will also support the maintenance of solar panels by conducting regular service checks, ensuring they are safe to use and work efficiently.
Solar installers will also research and assess the best locations for solar panel installations, measuring the spaces where they can be installed, whether on roofs or other areas of a structure.
A solar installer will also ensure the solar panels are wired up and connected to an electrical grid to supply the renewable solar power to the infrastructure, be it a company-owned building, home or open land.
Additionally, solar installers will design new bespoke solar panel PV systems for large-scale projects or to meet the needs of a business or homeowner looking to incorporate solar panels into their infrastructure.
Here's a summary of the main duties of a solar installer:
Install solar panels on various infrastructures, such as open land sites, company offices, schools, hospitals and households
Performing regular maintenance checks to ensure the solar panels are working at optimal levels
Assess the sites and infrastructure for proposed solar power PV projects
Help design and build new solar panel systems
Testing and commissioning PV systems, ensuring they are effective and safe to use
Solar installer skills and qualifications
Below are some of the skills and qualifications of a solar installer:
Deep understanding of electrical systems, including expertise surrounding PV solar power systems
Ability to design new and optimise existing solar panel systems
Excellent problem-solving skills for providing solutions to faults that may occur in the PV system
Solid communication skills with an ability to liaise with internal and external shareholders
A relevant solar PV certification depends on your location. For example, in the UK, you could attain a Level 3 NVQ in Electrical Installations or in the US, you could gain certification via the North American Board of Certified Energy Practitioners (NABCEP)
Career prospects of a solar installer
Ranking as one of the best professions of 2023 by Indeed, solar installer jobs have seen a 315% increase in demand over the last three years. Averaging at around 87 jobs per million people, with 16% of positions being remote-based, this is certainly a career with high prospects.
Positions within this niche area of the alternative and renewable energy industry are projected to grow at an above-average rate of 27% from 2021 to 2031. Ultimately, there has never been a better time to consider applying for solar installer jobs.
How much does a solar installer make?
According to Indeed, the average UK solar installer's salary is £36,000.
Final Thoughts
As we give our final thoughts on the top 5 most searched alternative and renewable energy jobs, it's clear the opportunities are out there for bright-minded and ambitious professionals. Many of the skills and qualifications mentioned in the above roles are transferable between the various industries within the renewables space and other areas of non-renewable and more traditional energy jobs.
Undoubtedly, jobs within the alternative and renewable energy space are exciting and futureproof and allow you to work with some of the most talented individuals and innovative organisations within renewables. Of course, by embarking on a career in renewable energy, you can make a lasting mark on the future of our planet's sustainability.
Looking for the latest jobs in renewable energy?
If you're seeking to advance your career with the latest alternative and renewable energy jobs, we can help you find what you're looking for. As experts in the alternative and renewable energy industry, we can connect you with some of the leading pioneers within the space and to some of the biggest projects across the globe. So, if you're looking for a partner to help you achieve your alternative and renewable career aspirations, contact NES Fircroft today.