Top Trends To Look Out For In The Automotive Industry
26 Mar, 2021
5:21
The COVID-19 pandemic created uncertainty across many industries. But, although the pandemic...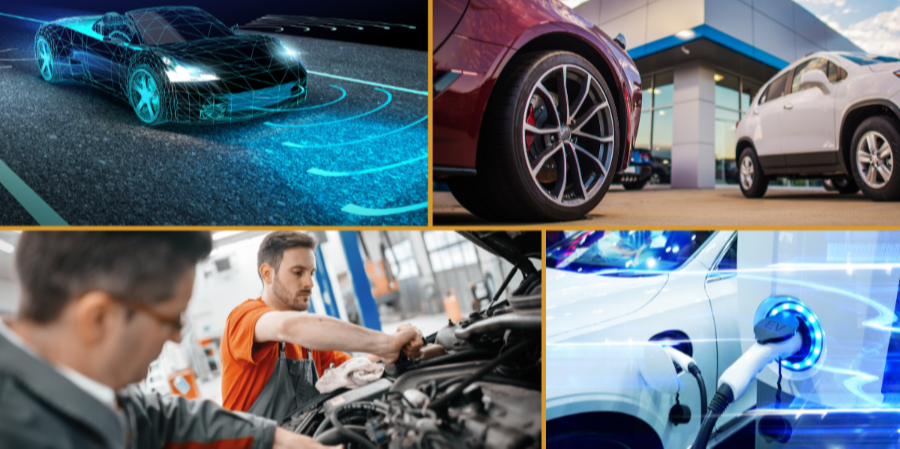 The COVID-19 pandemic created uncertainty across many industries. But, although the pandemic is still having an impact, it's not all doom and gloom.
In the first quarter of 2021 prospects in the automotive industry have started to look up remarkably. The recent consumer shift from public and shared transport to personal mobility has made recovery a lot faster than originally anticipated and there are plenty of exciting trends, technological developments, and discoveries within the automotive industry to watch out for.
So what are the top trends in the automotive industry this year, and what kind of cars can we expect to see on our roads over the next few years?
1. Connected Cars
According to KPMG's Global Automotive Executive Survey, 'Connectivity and Digitalisation' is a key trend within the industry, with 59% of automotive executives surveyed placing it as the most important automotive key trend up to 2030.
Connected cars aren't a new concept. The first car with connected features, the OnStar, was launched by General Motors in 1996. Initially, the aim was to increase safety by contacting emergency services when there was an accident.
Things have evolved since then and connected cars are growing even more sophisticated. Connected services and telemetry data is viewed as a particularly important source of future new income for car manufacturers.
Automotive companies are using IoT technology to create innovative connected services and collecting telemetry data from vehicles to implement new applications such as predictive maintenance to improve the lifetime of a car, increased user experience, autonomous driving, and Advanced Driver-Assistance Systems (ADAS).
Connected cars are not only about making driving safer anymore, they're also about making life easier. Connected cars have their own internet connection, generally via a wireless local area network (WLAN) making it possible for other devices around and inside the car to share its internet access.
Connected cars also enable drivers to control and communicate with other smart devices remotely, most often via a mobile app. For example, you could start up your car remotely five minutes earlier via a mobile app so that it's warm and your windows are defrosted prior to leaving your house in the colder months. Some connected cars can also park themselves for you, making it a lot easier to park in smaller spaces.
There are plenty of new technologies and features that keep being added to connected cars, both increasing driver safety and user experience. We can certainly expect connected cars to be on our roads in increasing numbers over the coming years.

2. Self-driving vehicles
Self-driving cars, also known as autonomous, driverless or robo-cars are vehicles capable of monitoring their environment and potential threats to move safely, without any, or with very minimal human input.
Driverless cars are equipped with a range of different technologies, such as radars, sonars, lidars, initial measurement units, odometry, advanced control and GPS systems. These enable them to interpret sensory information and identify the most appropriate route, as well as relevant signage and obstacles.
There are already quite a few Level 2 autonomous cars on our roads. These are cars that can take on multiple functions from the driver and are technologically advanced enough to bring steering and speed systems together, using multiple data sources.
In 2020, Waymo was the first company to offer robo-taxi rides to the general public in Phoenix. Although there are as of yet no fully autonomous cars (Levels 4 and 5) on our roads, there are several projects in the works to develop the first fully driverless commercial cars, and we can hope to see those emerging in the next five to ten years.
3. Automotive digital retail
​Online retail has already penetrated the North American and Western European automotive markets to a certain extent, pushed by consumer demand that stems from digital retail and media experiences from other industries.
According to research done by the Internet Advertising Bureau, 84% of consumers in the UK use their mobile phone to research a car.
A paper released by Deloitte - Disruption in the Automotive Industry, How Digital is Changing Car Sales – states that
In order to bring the industry up to date with current retailing trends, OEMs and their partners need to put the consumer first, responding to their needs and wants by using technology to fundamentally change their operating models and reshape the way consumers engage with their brand.

Updating and improving a sales process that has not changed for decades poses a unique challenge, but it is one that we believe can be met by ambitious OEMs.
The COVID-19 pandemic has dramatically increased the automotive digital retail trend, having made it a lot clearer how easy, fast, and convenient it is to purchase anything online, even important products such as a car.

Tesla was the first company to successfully deploy online sales. Once the pandemic hit, other automotive companies followed this trend. Companies like Volvo and Daimler have since set targets to sell a large part of their cars online by 2025.
Another attraction of automotive digital retail is that the costs associated with physical showrooms are nullified, meaning much more competitive car prices.
The automotive digital retail model is certainly one that will become increasingly prevalent in the years to come.
4. Subscription-based vehicle usership models
​During the past five decades, car ownership has been a symbol of mobility. In the United States, there are more cars than households, with each household owning on average 1.88 cars.
Subscription-based models that are flexible, personalised, and transparent are rapidly emerging across all kinds of different industries, including the automotive industry. This is having a fundamental impact on the way we access, use, and consume goods and services.
Over the past few years, there's been a shift in focus, with younger generations in particular, away from ownership towards the freedom and mobility that renting a car offers. This shift is most often known as Mobility as a Service (MaaS).
Such services are now available in many cities around the world, with people able to access scooters, bikes, and cars they don't own, thanks to a subscription or an online app purchase. Global urbanisation has made owning a vehicle a lot less convenient than it used to be, which is why the on-demand aspect of MaaS has been so successful.
Car subscription models afford customers access to roadside assistance and a range of cars that are maintained and insured for a single all-inclusive price. Overall, such a model is a lot cheaper and takes away some of the commitments of owning a car.
Car subscription-based models are on the rise and will seemingly keep on growing in the years to come.

5. Electrification within the automotive industry
​Vehicle electrification has been on the agenda for most automotive companies for a while. Within KPMG's Global Automotive Executive Survey, battery electric vehicles and fuel cell electric vehicles were also among the top trends across all regional clusters and stakeholders in 2030.
As governments set targets for a more carbon neutral world, it isn't surprising that vehicle electrification is a top area of focus within the automotive industry. However, for electric vehicles (EV) to be more widely adopted, the industry will have to surpass a range of challenges including developing better battery technology and charging infrastructures.
However, there is much to look forward to, with national governments investing into research and development and instigating new incentives to promote EV adoption. For example, the British Prime Minister's Ten Point Plan for a Green Industrial Revolution aims to speed up the transition to EVs and to end the sale of new diesel and petrol vehicles by 2030.
This could create 40,000 more jobs by 2030. The aim is also to transform national infrastructure to better support EVs. This is all financed by a total of £2.8 billion and maintains around 169,000 jobs.
With more and more effort being put in by both the automotive industry and government to promote the adoption of electric vehicles and overcome the above-mentioned challenges, we can be sure to see more and more on our markets at increasingly affordable prices.
NES Fircroft and the Automotive Industry

The automotive sector is constantly evolving as new technologies emerge and are reimagined. Of course, for this growth and evolution to keep happening, there is a constant need for top engineering talent.
NES Fircroft can source outstanding technical experts necessary to ensure industry innovation – if you have a staffing need, get in touch with our experts.
If you're looking for your next automotive job – we can help. Having been active within this industry for several years, we have strong relationships with some of the world's biggest companies in the automotive industry.
Sign up to our EngineeringPro newsletter to get industry insights delivered straight to your inbox.