What Does The Future Of The Automotive Industry Look Like?
10 Nov, 2021
4:02
A vastly developing world paired with accelerating globalisation has revealed previously unc...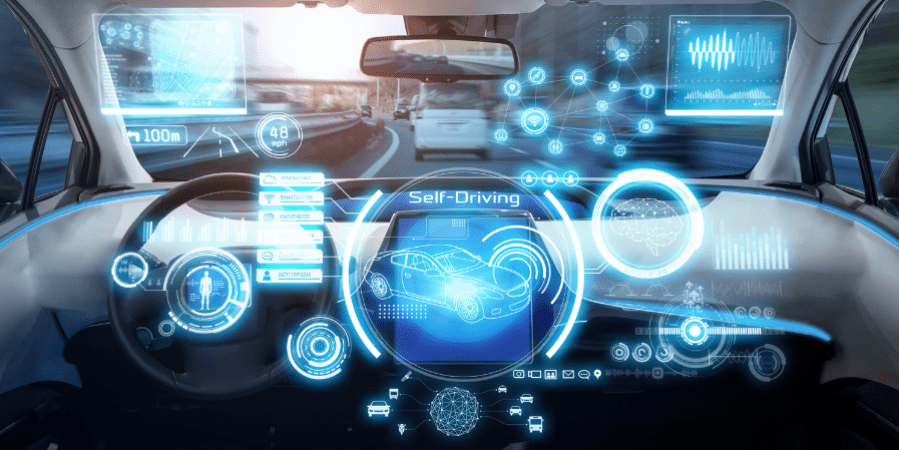 A vastly developing world paired with accelerating globalisation has revealed previously unconsidered needs and desires for automotive consumers. In addition, as the digital revolution ripples through the industry, automotive design is being reinvented - from changes to the physical interior and exterior of vehicles through to user experience.
These factors mean that in the not-so-distant future, our cars will be completely unrecognisable to what we know today.
So, as we near the end of 2021, what does the future of the automotive industry look like?
​Driverless Cars
Despite initial predictions in 2015 that we would become "permanent backseat drivers" and we would see millions of self-driving cars on the roads by 2020, fully autonomous cars are still out of reach for most of the general public. However, almost every major car manufacturer has researched or is planning to research self-driving cars to bring them into mainstream use. In the UK, a report, conducted by researchers at the Connected Places Catapult, Element Energy and Cambridge Econometrics forecasts that by 2035, 40% of car sales in the UK could have self-driving capabilities.
We're already well on our way to reaching full autonomous cars – many cars have had cruise control capabilities for several years and some cars will now park without any input from the driver.
Although it's still unclear as to when driverless cars will become mainstream worldwide, current progress and investments suggest the next 5 years will be crucial in the development and rollout of driverless cars.
Electric Power
Electric vehicles are not exactly a new trend, but they are quickly becoming a must-have across the globe. In fact, the history of using electricity to power cars goes back further than you think. The first electric car dates to 1828, when Hungarian inventor, Ányos Jedlik, created an electromagnetic device that he fitted to a small model car. This concept then progressed to the first full-sized vehicle in 1832, when Scottish inventor, Robert Anderson, created an electric-powered carriage – a radical change to the horse-drawn carriages of the day.
Fast forward 200 years and numerous technological advances have led to electric cars emerging as a real replacement for the traditional internal combustion engine. In the years ahead, increasingly powerful electric engines are set to become the dominant choice for consumers.

On top of this, the change in powertrain components will allow opportunities for new vehicle layouts and innovative styles. Future interior designs will see a divide between a family environment with open space and a light and sporty environment for those who prefer a more streamlined approach.
Already, many countries have set targets for going all-electric, and you're likely to witness infrastructure needed to support this change appearing near you – many car parks now have charging points including supermarkets, service stations and more. Portable chargers are also on the horizon, making owning an electric vehicle even more convenient. These changes are leading to an increase in electric car sales across the globe.
Sustainable automotive manufacturing
With the growing importance of addressing environmental issues, sustainability is a hot topic across all industries, particularly Automotive. Increased sustainability means that weight reductions, recycled material, new production methods and innovative materials are of paramount importance in making the industry sustainable and more efficient.
Lighter materials
Weight reductions in vehicles are key in improving sustainability with carbon fibre as the most promising material in this respect. However, this material still costs far more than traditional metal, despite carbon fibre prices dropping tenfold in the last decade. BMW has announced that they will be building the body structure of their new Megacity Vehicle with entirely carbon composites which will be a major milestone in weight reduction. Similarly, TATA steel, owner of Jaguar Land Rover is reducing their weight through bodywork with tailored blanks.
Reuse and Recycle
Using recycled material is becoming an important and necessary part of car manufacturing, especially with the lack of space in landfills paired with the lack of raw materials. The use of recycled materials has increased over the last few years as automotive companies strive to become more sustainable.

Bioengineering
Bioplastics will become more commonplace as the industry see are a type of biodegradable plastic derived from biological substance. In 2009 DSM launched a high-performance plastic known as EcopaXX - a carbon-neutral bioplastic derived from castor beans (which are unsafe for human consumption and therefore will not create a disturbance in the food chain). Composites make vehicles lighter, safer and more fuel-efficient. What's more, the glass or carbon filled fibres within the composites can be replaced by natural fibres from plants such as hemp. OEMs who promote the use of bio-based materials include the likes of Toyota, BMW and Daimler.
Micro Machines
With the growing need to become more environmentally friendly, smaller cars are looking to be the way forward. The smaller the car, the smaller and lighter the engine can be - making it more sustainable in all aspects. Downsizing calls for optimal vehicle efficiency is a challenge for both engineers and designers that will be addressed over the coming years.
Tomorrow's automotive factories will be nothing like they are today
For the industry to keep up with the changes we expect to see in the vehicles themselves, the manufacturing facilities will also need to adapt and change - as car hardware and software is revolutionised, the machines that make them will need to be redesigned.
This change is already underway across the globe, with several new projects emerging to revamp facilities and create new plants. For example, Ford is investing $185 million to support the company's growth into connectivity, autonomous vehicles, electrification, and mobility services to build a new battery centre in southeast Michigan named Ion Park and Hyundai Motor is building a £1.55 billion vehicle manufacturing plant in Indonesia to support its growth in the Electric Vehicle space.
Automotive projects you need to know about
NES Fircroft and the Automotive Industry
The automotive sector is constantly evolving as new technologies emerge and are reimagined. Of course, for this growth and evolution to keep happening, there is a constant need for top engineering talent.
NES Fircroft can source outstanding technical experts necessary to ensure industry innovation – if you have a staffing need, get in touch with our experts.
If you're looking for your next automotive job – we can help. Having been active within this industry for several years, we have strong relationships with some of the world's biggest companies in the automotive industry.
Sign up for our EngineeringPro newsletter to get industry insights delivered straight to your inbox.