What is the future of renewable energy?
14 Mar, 2023
3:13
Clients in the renewable energy industry have historically faced cost challenges in creati...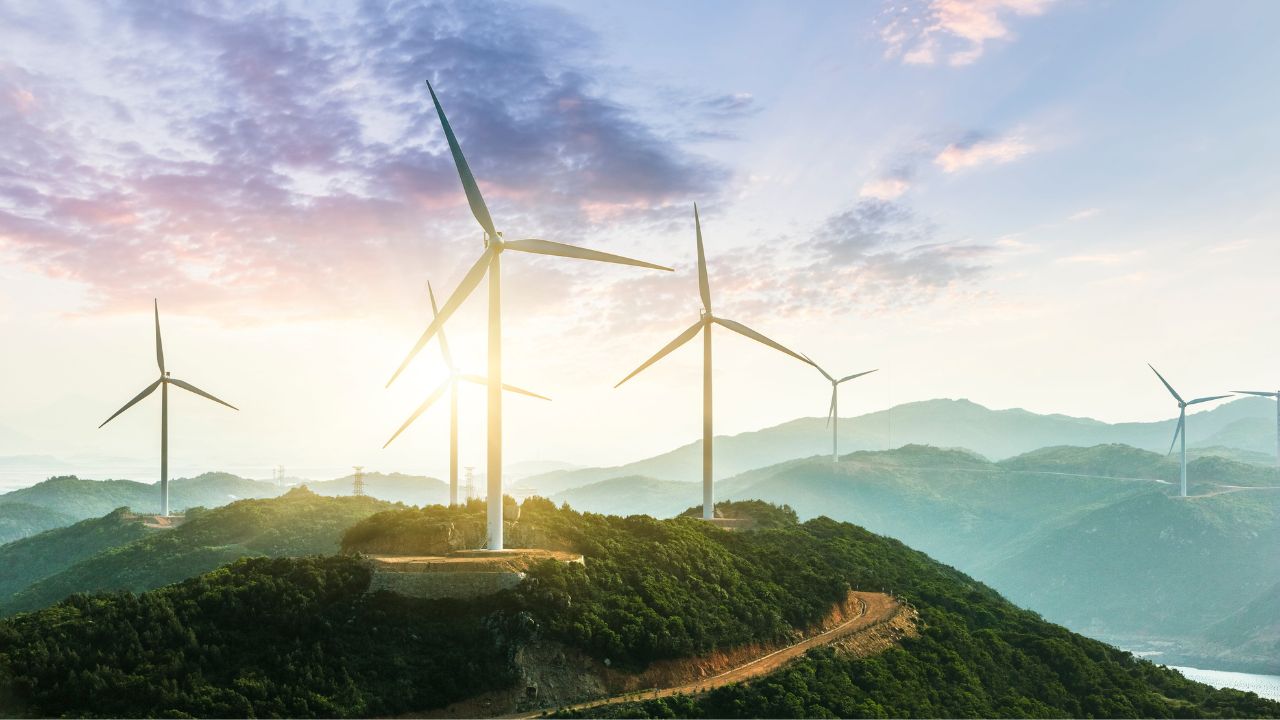 Clients in the renewable energy industry have historically faced cost challenges in creating a sustainable business model, preventing renewable energy sources from challenging traditional oil and gas. However, the tech behind harnessing wind and solar energy for low-carbon electric power generation is rapidly reducing costs and boosting the global renewable energy capacity. So, for the first time in history, the future of renewable energy is within our grasp, bringing with it both a plethora of job opportunities for skilled professionals and growing talent pools for fast-growing clients.
In this blog, we will look at the rise of renewable energy, focusing on wind, solar and energy storage, while looking at the investment within the industry, the costs of renewable energy, and the range of roles in the market.
The rise of renewable energy
To meet the global net-zero goal by 2050, we must halve the number of emissions we currently use by 2030. As the world continues to strive toward reducing greenhouse gas emissions and cutting down on the use of fossil fuels, the rise of renewable energy has never been more critical in leading us to a cleaner future.
Renewable energy accounts for a third of our global power capacity. According to data from the International Renewable Energy Agency (IRENA) in April 2022, the end of 2021 saw the global generated renewable energy capacity reach 3,064 GW - a 9.1% increase from the previous year.
Additionally, their findings saw hydropower have the largest share of 1,230 GW or 40% of the total, and wind and solar energy contributed to a capacity of 825 GW and 849 GW, respectively. In terms of renewable capacity expansion, solar and wind came out on top in 2021, recording 88% of all net renewable additions with no signs of slowing down. Additionally, as we continue to witness the rise of renewable energy, we cannot ignore the impact energy storage will have on supporting the supply and demand of these energy resources.
Ultimately, several factors contribute to the continued rise of renewable energy, and we've listed some of the main ones below.
Hydropower leads the way
IRENA predicts the potential for 90% of the world's electricity to come from renewable energy resources by 2050, and hydropower could play a massive role in helping us reach this target. We mentioned above the impact hydropower had on the landscape of renewable energy, and according to the International Energy Agency (IEA), this resource will remain prominent for years to come. By 2024, hydroelectric capacity could rise by 9%, with China, Brazil and India at the helm of this growth.
25% of this growth is expected to come from three major hydropower projects. The first two, China's Baihetan and Wudongde projects, will generate 10 GW and 16 GW, respectively, with the third piece of the puzzle coming from Ethiopia's Grand Renaissance project, expected to produce 6.2 GW. These hydropower plants will use turbines to convert the kinetic energy of falling water into mechanical energy. This mechanical energy will then be passed through a generator to form electrical power.
Wind energy will continue to soar
As one of the cheapest energy resources, wind power will continue to play a significant role in the rise of renewables. By 2027, IEA predicts the global wind capacity will double, with offshore wind farm projects expected to account for one-fifth of this unprecedented growth. China and the US will likely be the spearheads for this growth. The two, already global powerhouses in the wind energy space, generated over 466.5 MW and 341.4 MW in 2021, respectively.

China and the US will also lead the charge of an expansion in onshore wind, with the expectation of onshore wind capacity to grow 57% to 850 GW by 2024. Onshore wind auctions in the EU have also been positively competitive over recent years, with the likes of Germany, Greece, Denmark and Poland committing to climate plans.
Solar power has a bright future
Global solar power is expected to be the fastest-rising renewable energy resource in 2023, with the demand set to rise by 20-30%, as stated by Bloomberg Intelligence. Again China and the US are predicted to be at the forefront of this innovation, contributing to 148.9 GW and 40.5 GW. In comparison, Europe is expected to account for 68.6 GW of the total - with Spain, Germany and Holland leading the way.
Solar is embedding itself into commercial and residential properties, with solar installations having the potential to reach 350.6 GW worldwide by the end of 2023 and up to 377 GW by 2024. In 2020, California ordered all households and buildings up to three storeys to install solar panels. In the UK, all new build homes must be installed with a form of energy saver, such as solar PVs, to pass SAP regulations.
Energy storage set to make its mark
In 2023, the adoption of energy storage could increase by 30%. Additionally, in 2021, the IEA reported that the global energy storage market would expand by 56% and reach 270 GW by 2026. More recently, in October 2022, BloombergNEF forecasted energy storage could cumulate 411 GW by 2030 worldwide.

Additionally, battery storage projects will lend a helping hand to grids and support with capturing the energy produced by wind and solar in years to come. The UK, home to Europe's largest battery storage facility, will help steer this drive in energy storage and contribute immensely to the future of renewable energy.
Investment in renewable energy must grow
Forbes reported that Booming Investment In Renewables Is Set To Continue In 2023 And Beyond, with the climate tech sector forecasted to grow at an 8.8% CAGR and become a $1.4 trillion market before the close of the decade.
Additionally, 2022 saw global investment in the renewable energy transition reach record numbers, with $1.3 trillion spent, a 19% increase from the previous year and 50% higher than in 2019. Although great positives can be seen from these record-breaking investments, these funds currently represent less than 40% of the average investment needed annually between 2021 and 2030 to achieve the 1.5°C targets set out by IRENA to be met by 2050. According to IRENA, investments must quadruple between now and 2030 if the targets are to be hit.
The financial cost of renewable energy looks positive
According to IRENA, renewable energy is now the cheapest form of power for most of the global population. Between 2010 and 2020, the cost of electricity obtained by solar power dropped by 85%, with the cost of onshore and offshore wind falling by 56% and 48%, respectively. Additionally, solar has been reported to be 20-50% cheaper than the IEA first predicted back in 2021, with continued growth expected in the second half of the decade.
With fossil fuels and gas prices averaging 10 times higher than a decade ago, people are quickly turning to renewables as a cheaper energy source. IRENA reported that the cost of crystalline solar PV modules decreased by 91% between 2009-2021, which is unsurprising, with the capacity for solar PV being around 20 times greater than it was 10 years ago.
Oxford University researchers also found that ending the use of fossil fuels and replacing them with renewable energy resources has the potential to save $12 trillion globally by 2050. Additionally, it's forecasted that an MWh of solar energy could cost somewhere between $2 to $40, whereas a barrel of oil could stretch to $20 to $110 by 2050. So ultimately, it's clear to see that the future of renewable energy is a cheaper and more efficient option.
Jobs in renewable energy reach 12.7 million
Another positive aspect to note regarding the future of renewable energy is the increased opportunity for talent within the renewable space. As reported by IRENA, jobs in renewable energy rose by around 700,000 between 2021 and 2021 to 12.7 million. Furthermore, as the world looks to expand its efforts to reach net zero by 2050, with increased cleantech innovation and investment in renewables, energy jobs could hit 30 million by 2030.
Renewable energy jobs at NES Global Talent
At NES, we're excited to see such sustained and unprecedented growth in renewable technologies supporting the energy industry. Our discipline-specific consultants can support all stages of your renewable project life cycle, supplying skilled personnel from the funding, design and installation phases to project management and grid installations.
We work on some of the most exciting renewable projects globally, from solar plants and wind farms to hydropower facilities. So if you are an engineer looking to enhance your renewable energy career, we have plenty of job opportunities waiting for you.
Learn more about our experience in the renewables industry, or get in touch to see how we can support you today.