What Is The Life Science Industry Doing To Reach Net Zero?
20 Jul, 2022
3:34
Global warming currently presents the greatest health threat of the century. According ...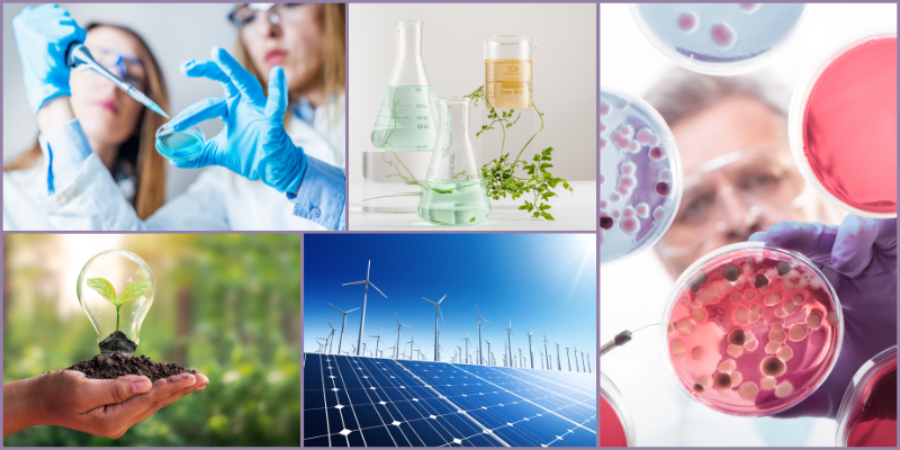 Global warming currently presents the greatest health threat of the century. According to the World Health Organisation, an estimated 12.6 million people worldwide die from environmental health risks due to dangerous air and water pollution levels, as well as poor sanitation.
Although not the biggest contributor - the healthcare industry represents 4.4% of global net greenhouse gas (GHG) emissions. If it was a country, it would be the fifth largest emitter in the world. However, the sector is rising to the challenge and many companies have launched initiatives to contribute to global efforts to reach net-zero.
Here are just a few of the projects and proposals launched in recent years.
​
Johnson & Johnson Consumer Health (J&JCH) Healthy Lives Mission
In September 2020, Johnson & Johnson Consumer Health pledged to invest $800 million through to 2030 towards making their products more sustainable.
This announcement came as part of the company's new Healthy Lives Mission. As part of this, J&JCH aim to use 100% recyclable, reusable or compostable plastic packaging and certified/post-consumer recycled paper- and pulp-based packaging for their consumer brands, all by 2025!
As stated by Katie Decker, Global President for Essential Health at J&JCH,
"Our company is focused on health and healthy people—everything we work on is designed to make people's lives healthier. […] How can we continue to do that if we're not serious about the health of the planet, too?"
​
Kaiser Permanente - The first carbon neutral health system in the United States
In 2016, Kaiser Permanente, the largest integrated, non-profit health system in the United States, pledged to become carbon neutral. By 2020, they had achieved this goal through a reduction in their emissions (improving the energy efficiency of their buildings, installing solar panels on-site, purchasing energy from renewable sources, …) as well as by purchasing carbon offsets.
This means that the company has eliminated its 800,000-ton annual carbon footprint, the equivalent of removing 175,000 cars off the road. Their carbon neutral certification covers all three scopes:
Scope 1 emissions: direct emissions from sources that it owns or controls,

Scope 2 emissions: emissions attributable to the energy it consumes,

Some scope 3 emissions: emissions from sources it doesn't directly control or own, including corporate travel.
Going forward the company aims to further reduce its scope 3 emissions, including its supply chain. In June 2022, the company also announced its goal to reduce its GHG emissions by 50% in 2030 and to reach net zero by 2050.
​
AstraZeneca's ambitious plans for carbon neutrality
In January 2020, at the World Economic Forum (WEF) Annual Meeting in Davos, Switzerland, AstraZeneca announced its ambitious $1 billion programme to reach zero carbon emissions from its global operations by 2025. The company is also aiming for its entire value chain to be carbon negative by 2030.
The company's goals are building upon its already-existing sustainability goals, which were to double its energy productivity, use renewable energy, and switch to a 100% electric vehicle fleet.
They are aiming to invest up to $1 billion to achieve their new programme, which included developing a new type of respiratory inhaler with near-zero Global Warming Potential (GWP) propellants. The company is also aiming to reach its global operations net zero targets without having to rely on offsets. AstraZeneca also announced its AZ Forest project, a 50-million tree reforestation initiative that will be rolled out over 5 years.
As stated by Pascal Soriot, the company's Chief Executive Officer,
"Climate change is an urgent threat to public health, the environment, and the sustainability of the global economy. Since 2015, we have reduced our carbon emissions from operations by almost a third and our water consumption by almost one-fifth.

But now is the time to act even faster and redouble our efforts. The commitments AstraZeneca has made today as part of our 'Ambition Zero Carbon' strategy will enable us to speed up the reduction of our Company's impact on climate and inspire collaboration at a global level to effect policy change."
​
My Green Lab – The non-profit pushing for net zero across Life Sciences
My Green Lab is a non-profit organisation launched in 2013 to improve the sustainability of scientific research and reduce waste within labs, which are very resource intensive. The company's goal is to introduce a new perspective, supporting life science businesses to implement positive change at work and introduce a culture built around sustainability in labs.
As a company 'for scientists, by scientists,' My Green Lab use their experience and understanding of the industry to develop standards, oversee their implementation, and inspire long-lasting change within the scientific world.
The organisation approaches its mission in two different ways:
Through a series of programs developed to help companies rethink the way they do things and identify new ways to reduce their impact on the environment. This attitude change can in turn lead to wider positive changes in workers' lives.

Through a data-driven approach. My Green Lab always support their recommendations using data on sustainable best practices, which is shared with participants and the wider life science sector.
Since My Green Lab was created, they have certified more than 900 lab groups and have worked with tens of thousands of scientists around the world.
​
NES Fircroft and the Life Science industry
NES Fircroft has been supporting the Life Science market for over 20 years, sourcing personnel for engineering, scientific and commercial roles across the market. We recruit highly experienced professionals to the biotechnology, pharmaceutical, diagnostics, and medical devices industries.
We can provide both permanent and contract candidates to the Life Science industry across Quality, Clinical, Regulatory/Compliance, and Engineering disciplines.
If you're looking for skilled personnel, get in touch with our dedicated Life Science Recruitment teams to find out how we can support you.
Are you looking for a new job? Browse our Life Science vacancies today.