10 Major Oil & Gas Projects To Watch In 2020
08 Jan, 2020
10:10
Having recruited engineering and technical professionals for the Oil & Gas industry for ...

Having recruited engineering and technical professionals for the Oil & Gas industry for over 50 years, NES Fircroft pride ourselves on our specialist expertise. We strive to keep up with the major projects being developed around the world in order to best understand the workforce requirements of the project owners.
We've been looking at the biggest upstream, midstream and downstream projects that oil and gas industry experts should watch in 2020.
To narrow down a top list, we've focused primarily on the size of each project's capital expenditure, amongst other factors. Some of the energy projects will be starting up from scratch this year, some are due to begin construction this year and some are ongoing projects that are set for major changes, approval or decisions. But all are vast projects that are set to impact the global Oil & Gas industry and its workers in 2020.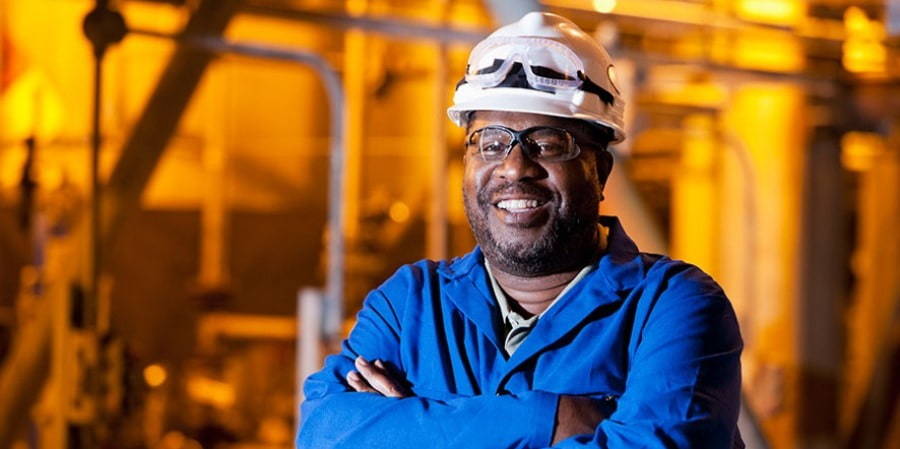 Alaska LNG Liquefaction Plant
Cost: $43 billion | Location: Alaska, USA
Long-standing plans for Alaska's LNG Mega-Project could take a step forward in 2020.
One of the biggest LNG mega-projects in the world, Alaska LNG embodies a three-train liquefaction plant, gas treatment plant and 800 mile pipeline. The facility is intended to export 3.5 billion cubic feet of gas per day from Alaska's North Slope gas fields.

The liquefaction plant will have a capacity of 20mtpa and is expected to receive 2.8 bcf/d to liquefy. This part of the project alone will require construction of three LNG trains, two 240,000 cubic meter storage tanks, terminal facilities and marine services and two loading berths capable of accommodating Q-Flex LNG carriers up to 217,000 cubic metres. Construction will require 3,500 - 5,000 workers at peak times, and 100,000 - 150,000 tons of steel.

The project has been in the pipeline for several years, with a number of invested parties operating as a consortium under the name Alaska LNG. This includes ExxonMobil with a 35% share, ConocoPhillips Alaska (20%) and Alaska Gasline Development Corporation (25%). BP also held a 20% share but agreed in August 2019 to sell all their Alaskan interests to Hilcorp Alaska for $5.6 billion. Subject to state and federal regulatory appeal, the transaction should be complete later this year.

The project is still waiting for federal approval following a series of environment impact studies and public comment periods. However a final environmental impact statement is expected to be made in March 2020. If this allows the project to move forward then it is hoped that a final investment decision can also be made later this year.
Rovuma LNG Project
Cost: $33 billion | Location: Mozambique
Africa's largest ever private project, a final investment decision on the Rovuma LNG project is expected to be made later this year, after an EPC contract was awarded by ExxonMobil to JGC Corp. in October 2019.
Rovuma LNG is one of three major LNG export projects that are currently being developed in Mozambique (the others being Coral LNG and Mozambique LNG), that are hoped will leverage the country to become one of the world's top LNG producers.

The Rovuma facility is expected to have an output of 15.2 million tons of LNG per year, with an operational lifespan of 30 years. ExxonMobil have announced plans to invest $500 million in the initial construction phase, which will involve installation of two liquefaction trains as well as associated onshore facilities.
If the FID is made on schedule then production is due to begin in 2025.
Al Zour Refinery
Cost: $16 billion | Location: Kuwait
Planned since 2007 but put on hold two years later following a drop in oil prices, construction on Kuwait's Al Zour Refinery finally began in 2017, with the facility scheduled to come online in June this year.
Located 90km south of Kuwait, it will be one of the biggest refineries in the world, producing 100,000 barrels per day of low-sulphur fuel oil to be used as feedstock by the Ministry of Electricity & Water for power generation. It will use more than 1.5 million b/d of crude and 300 MMcf/d of gas feedstock.

The project entails five phases: the first is the construction of the main facilities, including three atmospheric residue desulphurisation (ARDS) units featuring two trains each, three crude distillation units (CDU), three diesel hydrotreating units (DHTU), two naphtha hydrotreating units (NHTU) and two kerosene hydrotreating units (KHTU). The second and third phases are the construction of support process units, utilities and off-sites. The fourth and fifth involve the construction of a 6.5 million barrels capacity storage tank farm and interconnecting pipelines and marine and export facilities including jetties and roll-on, roll-off berths.
The refinery is due to begin production by December 2020.
Scarborough Gas Project & Pluto LNG Expansion
Cost: $11 billion | Location: Australia
Woodside are planning to expand the Pluto LNG facility through the addition of a second LNG liquefaction train with a targeted capacity of 4-5 mtpa, that will allow them to develop the gas from the Scarborough field, located 270km off the coast of Western Australia.
Currently the facility has a single-train capacity of 4.9mtpa which uses feedstock from the Pluto and Xena fields.

Due to delays in the planning of the $20.5 billion Browse project, Woodside are moving up their anticipated target for the Scarborough project with the hopes of making a final investment decision in early 2020.
Dangote Refinery and Polypropylene Plant
Cost: $11 billion | Location: Nigeria
Based in the Lekki Free Trade Zone in Nigeria, the Dangote Refinery and Polypropylene plant is intended to be Africa's biggest oil refinery and the world's biggest single-train facility. Its construction will increase Nigeria's refining capacity two-fold, making the country less dependent on imported refined fuel products.
The facility will include a crude distillation unit (CDU), a single-train residual fluid catalytic cracking (FCC) unit, diesel hydrotreating, continuous catalyst regeneration unit, alkylation unit, polypropylene unit, utilities and offsite including a captive power plant and infrastructure for a single-point mooring terminal for crude oil and product handling. It will be able to process different grades of crude including shale oil, and will have a production capacity of 153,000 b/d of gasoline, 104,000 b/d of diesel, 73,000 b/d of jet fuel, 4,109 b/d of LPG and 12,300 b/d of fuel oil.

Construction of the plant is intended to be completed by the end of the year, with the facility starting up in early 2021. In December 2019 the Nigerian Content Development Monitoring Board announced that $368 million of contracts were being awarded to 120 local contractors to further boost implementation of the local content policy in Nigeria through 2020.

In total, the project is thought to generate 9,500 direct and 25,000 indirect jobs throughout the country.
Nord Stream 2 Gas Pipeline
Cost: $10.8 billion | Location: Russia
The 1,290km Russia-Germany Nord Stream 2 Pipeline is scheduled for completion later this year, if it can overcome significant legislative hurdles.
The pipeline running across the Baltic Sea is intended to double the gas capacity of the Nord Stream route to 110 billion m3 per annum. The project involves two offshore strings with an aggregate annual capacity of 55Bcm (1.9Tcf) of gas, coming from the Yamal Peninsula which is thought to hold 4.9 Tcm (173 Tcf) of gas reserves.

A consortium including Gazprom, E.ON, OMV and Engie are operating the project, which began construction in May 2018. By August last year it was reported that 75% of the pipeline had been laid, despite consent not having been granted by Denmark for a section that would run through its territorial waters. Approval was granted by Denmark in October.

It was hoped that the pipeline could start up in the second half of this year. However work was halted on the 21st December 2019 in response to a defence spending package signed by US President Donald Trump which threatened sanctions if pipeline construction continued. It was believed by Washington that Nord Stream 2 would make Europe too reliant on Russian LNG supplies - with state controlled company Gazprom already supplying more than a third of Europe's gas needs - and reduce export potential for the US.
The operators reaffirmed their intention to complete the pipeline in a statement, saying:
"Completing the project is essential for European supply security. We together with the companies supporting the project will work on finishing the pipeline as soon as possible."
Having faced down multiple hurdles and being near the point of completion already, the future of this project is an interesting prospect and certainly one to watch this year.
Cameron LNG Liquefaction Plant
Cost: $10.2 billion | Location: Louisiana, USA
The Louisiana-based Cameron LNG Liquefaction Plant is approaching completion this year, with an intended capacity of 14.95 million tons per annum from three liquefaction trains.
The project, based on the boundary of Cameron Parish and Calcasieu, is one of the biggest LNG projects in the USA and created 3,000 jobs over peak construction.

The first train went online in May last year and first liquid was announced from Train 2 in December. Completion of this train is expected in the first quarter of this year, with Train 3 due to start commercial operation in Q3 2020.
Surat Gas Project
Cost: $7.15 billion | Location: Queensland, Australia
Queensland's onshore project is intended to produce 4 Tcf of gas from the Surat Basin over a period of 27 years. The basin is estimated to hold more than 60% of Australia's total proven coal seam gas reserves.
Arrow Energy are leading the project, with multiple phases due to be developed - the first being the development of the Tipton gas fields near the Dalby region. They intend to build 18 production facilities including gas compressors, water storage and treatment plants and power generation plants. Buried high-pressure gas pipelines will link the facilities and connect them to the gas transmission network, while buried water pipelines will connect the production facilities with sites of beneficial use. Each production well will be fitted with a 60kWp CSG-fired power generator.

The Queensland government approved 14 petroleum leases for the project in March last year. Arrow have set a start-up target of 2021, with peak production of 4mtpa aimed for 2026, so construction is expected to begin very early this year.
Trans Adriatic Pipeline
Cost: $5.5 billion | Location: Greece
Construction on the 878km Trans Adriatic Pipeline began in 2016, and it is expected that the Greek section will begin receiving gas early this year, with Italy receiving gas from the pipeline in the fourth quarter of 2020.
The pipeline transports Caspian natural gas to Europe. It will start at the Greek-Turkish border, where it connects with the Trans Anatolian Pipeline, and will cross Northern Greece, Albania and the Adriatic Sea before connecting with the Southern Italian natural gas network. It's intended to open up the Southern Gas Corridor by offering a direct and cost-effective transportation route.

The pipeline will initially be able to carry 10 billion cubic metres of gas per annum, with the option to expand to 20 Bcm per annum, and is able to reverse flow if required.
What's happening in the Oil & Gas industry in 2020?
The future of the Oil & Gas market has never been quite so complex as it is at the start of this new decade. A period of recovery for oil prices along with the implementation of new technologies has created vast areas of investment and new projects that continues to create great opportunities for skilled oil and gas engineers, particularly in areas such as the Gulf of Mexico, Western Australia, Africa and the Middle East. Yet as we look ahead it is impossible to ignore the political and environmental effects that will transform the Oil & Gas industry, and the wider energy sector, both in the short and long term. Companies face changing legislation that will limit their operations, while the supermajors themselves are looking into building a lower carbon future and offsetting processes as well as alternative investments.
In terms of new projects, however, the outlook is wide open. According to sector research firm Rystad Energy, around 250 new Oil & Gas projects are likely to be sanctioned for development in 2020 - up from 160 in 2016. The number of floating production, storage and offloading vessels (FPSOs) is due to increase with as many as 28 currently on order or under construction, while around 4,000km of subsea oil and gas flowlines are due for installation this year.
Deepwater projects continue to lead the way in large scale production, with the Gulf of Mexico already reported to have hit record production. According to the US Bureau of Safety and Environmental Enforcement, the Gulf of Mexico currently exceeds 2 million barrels per day, led by high levels of production from Chevron's Big Foot and Shell's Crosby fields, in addition to output from legacy fields such as Mars, Thunder Horse and Tahiti. The US Energy Information Administration predicts that the trend will continue to create a record year, with an expected increase of 100,000 barrels per day from 2019 levels.
Guyana is an area many will be watching in 2020, following 14 discoveries made by ExxonMobil since May 2015. Exxon's Liza Phase 1 development began oil production in late 2019 and is expected to reach its full capacity of 120,000 b/d in Q1 of 2020. It's thought that the industry will increase Guyana's GDP by up to 80% in the coming years.
Another trend that is expected to continue is the increasing growth of the liquefied natural gas market. According to research by McKinsey, demand is expected to grow 3.6 percent per annum to 2035 - requiring a capacity growth of 250 billion cubic metres of LNG. By the end of 2019 the leading exporter of LNG was Australia, which shipped an estimated 77.5 million tonnes, worth A$49 billion (US$33.5 billion). Much of this is credited to the growth of INPEX's Ichthys project. Australia exported more than twice that of the US (which shipped 34.3 million tonnes) and just edged out Qatar who exported 75 million tonnes.
Western Australia alone can be counted as the world's second largest LNG producer, and many would expect the country to continue capitalising on its reserves, particularly with several major facilities currently being developed across the region. But with growing public concern for the environmental effects of burning fossil fuels - even a relatively clean burning fuel like LNG - the continued growth of Australia's gas sector will have to contend with public opinion leading potential legislative changes.
This effect is of course not singular to Australia. Environmental pressures are increasing globally and the effect on legislation will be felt in the Oil & Gas industry in the years to come. For 2020 we expect to see a continuation of a trend for divestment from oil majors from what had previously been large areas, such as Exxon and Chevron moving out of the North Sea. The knock on of this is that these majors will then go in to other areas with lower costs of investment.
Despite the exit of some of the majors, there are actually signs of a resurgence in the North Sea, with research and consultancy firm GlobalData reporting on 30 new crude oil and natural gas projects being launched in the area in 2020. Of these 19 will be in the UK waters, while Norway will have 10 and Denmark holding the remainder.
Finally we can look towards the Oil & Gas market in the Middle East, where the United Arab Emirates are leading the way in 2020. State owned company ADNOC are reported to be targeting a production rate of 4 million barrels of oil per day by the end of 2020, in line with its plans to grow conventional drilling activity by 40% by 2025. The UAE is expected to continue investing heavily in the sector, though it is yet to be seen how political problems across the entire Middle East will affect exports through the year.
2020 is set to be a fascinating year for the Oil & Gas sector, and we will be continuing to analyse and report on new projects and major industry changes throughout the year (and you can keep up with all of them by subscribing to the weekly EngineeringPro newsletter). Let us know in the comments below which projects you're watching and what your predictions are for the year ahead.
​50 years of Oil & Gas recruitment
NES Fircroft began recruiting engineering and technical professionals for projects in the North Sea oil industry back in 1970. Fifty years later, we've expanded to become a global leader in sourcing the best talent for major energy projects. Register your CV with NES Fircroft to find out more about our latest engineering opportunities and secure your next job with a major brand in the Oil & Gas industry.