5 of the biggest renewable energy projects in 2023
21 Sep, 2023
8 min
Renewable energy is rapidly growing, and 2023 is set to be a record year for renewable energ...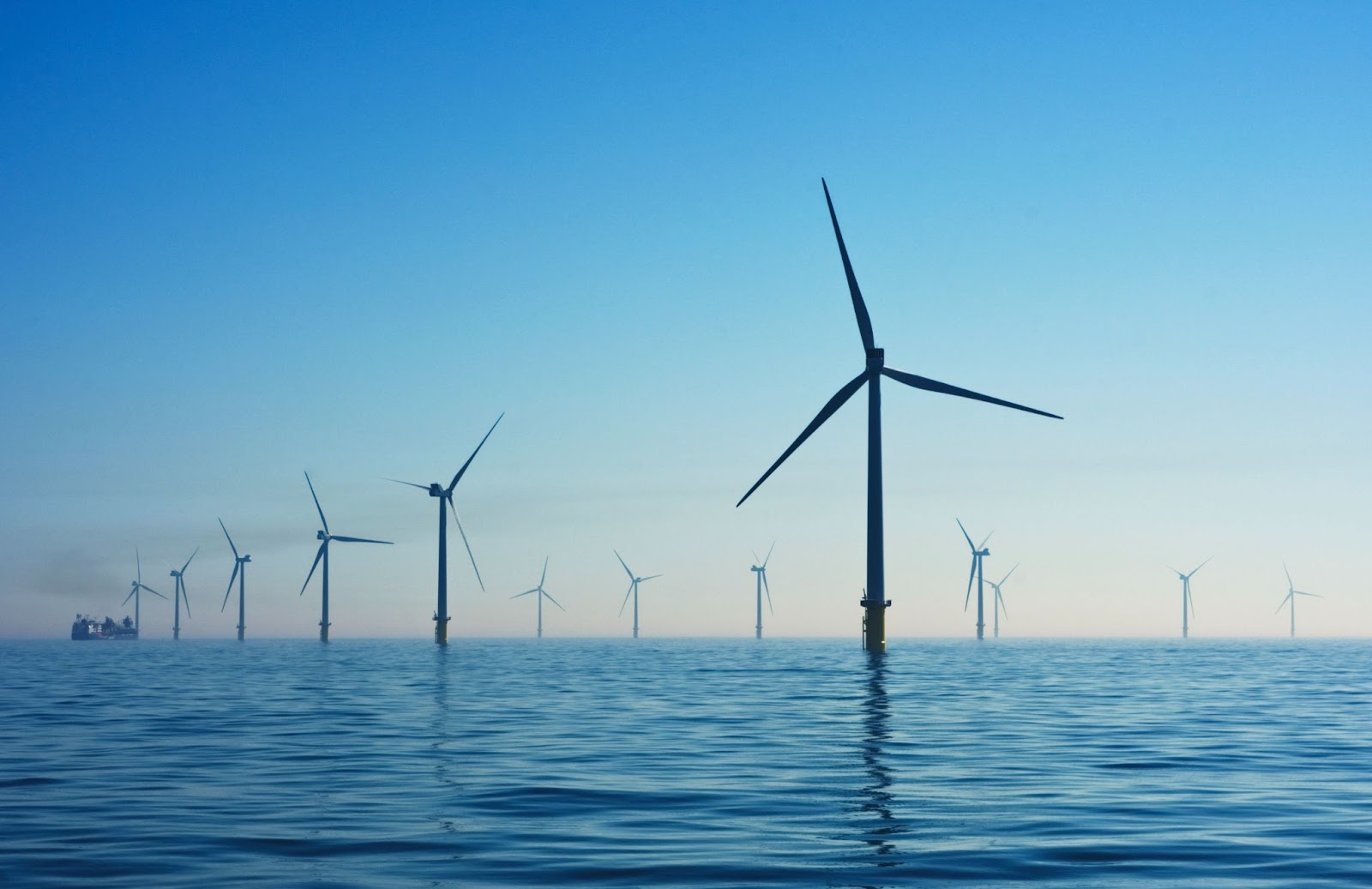 Renewable energy is rapidly growing, and 2023 is set to be a record year for renewable energy projects. The International Energy Agency (IEA) has reported that global renewable capacity additions are expected to increase by 107 GW to more than 440 GW in 2023, the largest rise the world has ever seen. This unprecedented growth is driven by the support from industry innovators who are going above and beyond with their projects for renewable energy to progress the energy transition.
In this guide, we will delve into five of the biggest renewable energy projects in 2023, including:
Dogger Bank Wind Farm
Baltic Power Offshore Wind Farm
bp's Morgan and Mona Offshore Project
Yellow Pine Solar Project
RWE's Nordseecluster Wind Project
If you have a keen interest in the advancements of renewable energy, then this guide is certainly for you. Let's start our list by exploring one of the world's largest offshore wind projects.
1. Dogger Bank Wind Farm
Our first entry to our list of the 5 top projects for renewable energy is the Dogger Bank Wind Farm, the world's largest offshore wind energy project in construction. Located 130km to 190km from the North East coast of England, the offshore wind farm is expected to be completed by 2026. It will generate 3.6 GW, enough electricity to power six million households across the UK.
With investment toppling £9 billion, the Dogger Bank Wind Farm is being developed by a partnership between SSE Renewables (40%), Equinor (40%), and Vårgrønn (20%). The Dogger Bank Wind Farm is split into three development stages - A, B and C. Each of the 277 wind turbines reaches close to twice the height of the London Eye, and its turbine blades (107m long) are almost double the wingspan of the Angel of the North.
"It will be the world's biggest, most innovative offshore wind farm. It will generate more energy per turn of those rotors than any other project, enough to power a house for two days."
Alistair Phillips-Davies, SSE's Chief Executive, speaking to The Guardian.
Phases A, B and C of the Dogger Bank Wind Farm will generate 1.2GW, respectively and can be broken down as follows:
Dogger Bank A
Phase A of the Dogger Bank renewable energy project consists of 95 wind turbines located 131km from the shore and has a size of around 515km². Whilst onshore construction began in 2020, the offshore build started in the Spring of 2022, with the first power produced in the Summer of 2023. By 2024, Dogger Bank A will be commercially operational.
Dogger Bank B
Phase B of this renewable energy project also began onshore construction in 2020 and, like Dogger Bank A, is 131km off the shore and will be made up of 95 wind turbines. With a size of 599km², the first power is expected to be generated in the Summer of 2024 and is forecast to be commercially operational six months later.
Dogger Bank C
Phase C of the Dogger Bank Wind Farm will be roughly 560km², consisting of 87 wind turbines located 196km from the shore. The installation of Dogger Bank C will commence in 2025, with the completion of the entire project expected by 2026.
According to SSE Renewables, an estimated 3,000 wind energy jobs have been created in the UK to support the construction and operations of the renewable energy project. GE Renewable Energy also estimated that the three phases of the Dogger Bank Wind Farm created 470 green jobs, consisting of 300 skilled installation roles and 120 servicing jobs as part of GE's five-year Service and Warranty Agreements with Dogger Bank for phases A, B and C.
As the construction continues and finalises over the next few years, more renewable energy jobs will likely be needed for the Dogger Bank Wind Farm. Maintenance for renewable energy projects like this will also be required, signalling the need for future wind turbine technician jobs and other onshore and offshore wind energy jobs.
2. Baltic Power Offshore Wind Farm, Poland
The Baltic Power Offshore Wind Farm, a joint project by the ORLEN Group and Northland Power, is set to revolutionise Poland's energy sector and contribute to the country's commitment to clean energy. With a strong focus on sustainability and reducing carbon emissions, the Baltic Power project aims to provide clean energy to over 1.5 million households by 2026.
The ORLEN Group, a leading energy company in Central Europe, has set an ambitious vision to achieve 9 GW of installed renewable energy capacity by 2030. The Baltic Power Offshore Wind Farm is vital to this vision, marking an important milestone in Poland's energy transition.
To turn the vision of the Baltic Power Offshore Wind Farm into reality, the ORLEN Group and Northland Power have secured credit facility agreements with a syndicate comprising 25 Polish and international financial institutions. This financial backing demonstrates the market's confidence in the project and its potential to transform Poland's energy landscape. With an estimated budget of approximately EUR 4.73 billion, the project is well on its way to securing the necessary funding for construction and operation.
The construction of the Baltic Power Offshore Wind Farm is set to commence in 2023, with the offshore segment following in 2024. The project is expected to become fully operational by 2026.
3. BP Morgan and Mona Offshore Project
An important new entry into our list is bp's two offshore wind developments of the North West coast of the UK, Morgan and Mona, named after their connection to the Welsh region.
The Morgan Offshore Wind Farm is being developed through a joint venture between bp and EnBW Energie Baden-Wurttemberg AG. Similarly, the Morecambe Offshore Wind Farm is a joint venture between Cobra and Flotation Energy. It is one of the most significant offshore wind projects awarded in the UK Offshore Leasing Round 4. It marks bp's entry into the UK's offshore wind sector, following previous projects in Germany, France and Sweden.
In October 2023, the consultation process began on the offshore wind farm's planned transmission assets for local communities and stakeholders to provide feedback on the planned connection to the existing Penwortham substation in North West England. The consultation focuses on the proposed substation locations, offshore and onshore cable routes, the Preliminary Environmental Information Report, and all the work undertaken thus far.
These leases will play a critical role in helping deliver the UK government's aim of producing enough offshore wind to power every UK home, quadrupling the country's generating capacity to 40GW by 2030."
Richard Haydock, bp project director
When operational, the two sites in the project will have a combined potential energy capacity of 3GW, enough to power approximately 3.4 million UK households by 2030.
4. Yellow Pine Solar Project
One of the latest renewable energy projects in the US and a worthy mention in our top 5 list is the Yellow Pine solar project. Located in Clark County, Nevada, United States, the project is being developed by Yellow Pine Solar, a subsidiary of NextEra Energy Resources - the world's largest wind and solar energy producer. The project proposes producing 500 MW of clean energy to power 100,000 homes.
The Yellow Pine Solar Project has seen a $400 million investment and is expected to create about 300 construction jobs and offset nearly 500,000 metric tons of carbon dioxide emissions annually. Additionally, the project is expected to generate $23 million in tax revenue for Clark County, intended to go towards schools, local services and roads.
"This project will get Americans back to work, strengthen the economy, and provide 500 megawatts of renewable energy(…)The BLM is proud to approve this project, which will aid the economic development of surrounding communities."
Angelita Bulletts, BLM Southern Nevada District Manager, speaking about the BLM's approval of the Yellow Pine Solar project
With permission from the Bureau of Land Management (BLM), the solar plant will spread across 3,000 acres of land. As of 2023, the project is still in the developmental phase, with construction expected to begin in 2024 and commercial operation forecasted for 2025.
5. RWE's 1.6GW Nordseecluster project
Our final entry to our list of the most significant renewable energy projects in 2023 is RWE's Nordseecluster project in the North Sea off the coast of Germany. By combining four wind farm sites in the eastern part of the German North Sea, this ambitious project aims to harness wind power to generate up to 1.6 GW of clean electricity to power 1.6 million homes in Germany.
The Nordseecluster will feature a minimum of 104 offshore wind turbines, each with a capacity of 15 MW. These state-of-the-art turbines, manufactured by Vestas, incorporate innovative technology to maximise energy generation and ensure efficient operation even in challenging offshore conditions.
The construction of the Nordseecluster will be executed in two phases. Phase A, comprising the N-3.7 and N-3.8 sites, is currently in the permit application phase. On the other hand, Phase B, which includes the N-3.5 and N-3.6 sites, has already been awarded to RWE by the Federal Network Agency.
The permit application phase for Phase A, consisting of N-3.7 and N-3.8 sites, is underway. The turbine installation is projected to commence in 2026, with commercial operation expected to begin in early 2027. Phase B, encompassing the N-3.5 and N-3.6 sites, is scheduled to start turbine installation works in 2028. Commercial operation for Phase B is targeted to kickstart at the beginning of 2029.
Final Thoughts
As the world transitions to a clean energy future, these projects in renewable energy will play a significant part in reducing our reliance on fossil fuels and mitigating climate change. The five renewable energy projects we've discussed in this piece represent a fraction of the developments underway around the world.
Whether it's the Dogger Bank Wind Farm or the Repsol's Delta II wind project, and everything in between, we'll continue to remain at the forefront of renewables, supporting global innovators to find the best talent to support their latest renewable energy projects whilst helping professionals within the energy space find the most searched alternative and renewable energy jobs.
Looking to grow in the renewable energy industry?
As a leader within the renewable energy industry with over 20 years of experience, we are best placed to support evolving organisations and ambitious talent in the renewable space. Our expert consultants have experience helping clients and candidates on some of the wo rld's most exciting projects for renewable energy.
Whether you are seeking talent acquisition services to connect you with the people who can grow your business or are looking for the latest jobs to power your renewable energy career, we have the solution you need.
If you are looking for a partner to help support your future renewable energy projects or want to advance your career within the renewables industry, contact NES Fircroft today.