7 Of The Biggest Upcoming LNG Terminals Creating Jobs Around The World
17 Jul, 2019
5:11
The growth in liquefied natural gas (LNG) has had an incredible impact on the oil and g...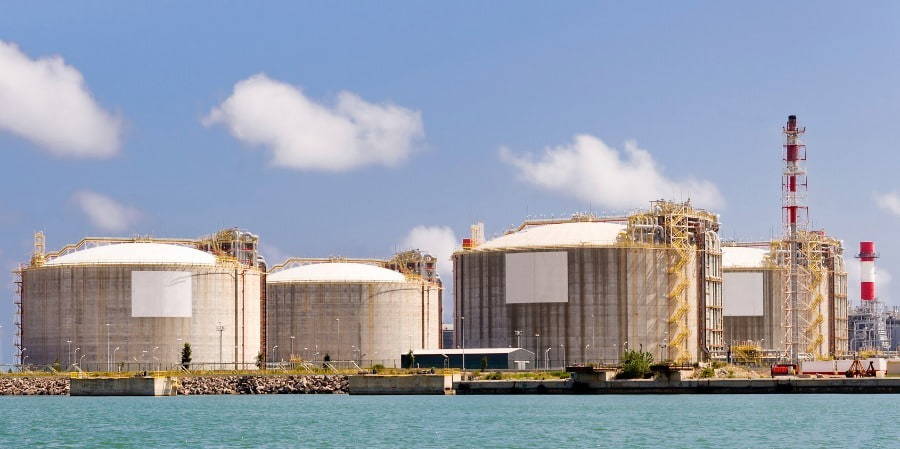 The growth in liquefied natural gas (LNG) has had an incredible impact on the oil and gas industry over the last few years, with over 284 million tonnes of LNG being produced annually - and demand increasing. Though the USA only made its first export in 2016, growth of the global marketplace - particularly in Asia - is making this an increasingly vital part of the energy sector.
With this growth comes new opportunities. Major oil and gas companies are now investing significant amounts in increasingly large liquefaction plants and export terminals. With each of these investments comes new jobs for engineering and technical professionals in the surrounding areas during the construction, installation and operational phases.
A conventional LNG terminal includes liquefaction plants, storage facilities and export hubs. With new onshore and offshore terminal developments being planned throughout the world there are too many to list in one place. But here are just a few of the biggest global LNG terminal projects that are being planned for construction over the next few years and will be creating thousands of engineering jobs.

Alaska LNG Liquefaction Plant
USA
$43 billion

One of the biggest LNG mega-projects in the world, the Alaska integrated natural gas project is expected to deliver an average of 3.5 billion cubic feet of gas per day from the North Slope gas fields.

The liquefaction plant, located in Nikiski, is just one part of this mega project, which also includes a gas treatment plant and 800 mile pipeline. The three-train LNG liquefaction plant will have a capacity of 20mtpa, and is expected to receive 2.8 bcf/d to liquefy.

The facility will require construction of three LNG trains, two 240,000 cubic meter storage tanks, terminal facilities and marine services and two loading berths capable of accommodating Q-Flex LNG carriers up to 217,000 cubic metres. 100,000-150,000 tons of steel will be required for the construction.

The liquefaction plant project is currently in the Pre-FEED stage. As of July 2019, the plant is undergoing a public comment period following a draft environmental impact statement that concluded that the project's significant impact would be offset by many economic benefits. The public comment period will close in October, after which it's hoped that Federal approval will be granted in March 2020 and construction can begin shortly after, with Q4 of 2025 eyed for a startup.

At peak construction, the LNG liquefaction facility will require a workforce of 3,500-5000 people, while a shipping and storage terminal will require 1,000-1,500 workers.
Tanzania LNG Liquefaction Plant
Tanzania
$30 billion
Deepwater discoveries south of Tanzania in 2011 promised significant potential for the region. Since then 15 further exploration wells have been drilled, resulting in nine discoveries with estimated volumes of more than 20 Tcf of gas in place.

Following a few delays, the Tanzania LNG Liquefaction Plant is now in Pre-FEED with the government announcing that it plans to complete negotiations with a consortium of partners so that construction can begin in the Lindi region in 2022. The consortium is being led by Equinor and includes Shell, Exxon, Ophir Energy and Pavilion Energy.

Construction is expected to last until 2028, and cost $30 billion. Initially two LNG trains will be built, each with a capacity of 5mtpa. There is also an option for an expansion with further trains to be built in the future.
The project is expected to make a major contribution to Tanzania's economy with the country's central bank suggesting that as many as two percentage points could be added to annual economic growth, which currently stands at around 7%. The LNG terminal is intended to take advantage of Tanzania's estimated recoverable reserves of over 57.54 trillion cubic feet (tcf) of natural gas.
Abadi LNG Project
Indonesia
$16 billion

Inpex Corp received approval for its revised plan of development (POD) for the Abadi LNG project from the Indonesian government on 16th July 2019. The revised plans changed the proposal from a floating LNG development to an onshore one.

The facility will be located on the Tanimbar Islands, around 150km from the Abadi gas field, and will have a planned capacity of 9.5mtpa, with around 150 MMcf/d of gas available for domestic consumption.

Inpex will next be working with Shell to begin necessary preparations of a FEED stage, following which a final investment decision (FID) will be made. The FID is expected in 2021, with commercial operations beginning in 2026.
Kitimat LNG Export Terminal
Canada
$15 billion
With the Asian LNG market growing, there are increasingly valuable prospects for export from Canada. One of the biggest proponents of this is the planned LNG project in Kitimat. Operator Chevron and their partner Woodside Petroleum applied last year to expand their planned capacity by 80% to produce 18 million tonnes per annum from three LNG trains.

In July 2019 the companies announced a further amendment to their plans, with a proposal submitted for an all-electric design that aims to produce the lowest greenhouse-gas emissions per ton of LNG of any large project in the world, at less than 0.1 ton of CO2 for every ton of LNG.

Despite the now regular changes to the plans, and expected cost increases in making the plan all-electric, the facility is still expected to begin producing natural gas by 2029. The latest scheduling hopes to achieve a final investment decision in 2022-23.
Main Pass Energy Hub LNG Export Terminal
USA
$15 billion

The Main Pass Energy Hub (MPEH) project will be located 16 miles offshore Louisiana and is intended to use two GLS Liqui-Max Vessels (LMVs) to liquefy, store and offload up to 12 million tonnes per year each of LNG.

The project is in the advanced engineering phase, with a FID expected later this year. Baker Hughes has been selected to provide the project with rotating equipment, while Siemens and Sembcorp Marine will build and deliver the first LMV.

Existing structures previously used for sugar and salt domes will form the basis of the offshore terminal, although significant construction will be required to build new facilities and salt storage caverns. The facility will also create jobs for the construction, installation and operation of floating liquefaction storage and offloading (FLSO) vesself to be used for the on-site liquefaction and exportation of LNG. Each of the six proposed FLSO vessels will need to be capable of producing 4mtpa.

Construction is aimed to be completed for a Jan 2023 startup.
Baltic LNG Liquefaction Plant
Russia
$13.87 billion

Longstanding plans for the Baltic LNG Liquefaction Plant were finalised by Gazprom in April 2019, with the project to be built in Ust-Luga, Leningrad Oblast, Russia.

The proposed plant is expected to produce a capacity of 13 mtpa of LNG as well as 4 mtpa of ethane and 2.2 mtpa of liquefied petroleum gases. Two liquefaction trains will be built, with gas coming from the Achimov and Vlaanginian fields of the Nadym-Pur-Taz region. Gazpom hope to have the first train in operation by the second half of 2023, and the second in late 2024. The facility will cover an area of 1,400 hectares.

The project is a major one for the Russian government, with the Deputy Finance Minister committing 900 billion rubles ($13.87 billion) from the National Wealth Fund.
Rovuma LNG Liquefaction Plant
Mozambique
$12 billion

With over 100 trillion cubic feet of proven natural gas reserves having been discovered in the Rovuma basin offshore Mozambique, the country has been earmarked as a major LNG exporter.

The Rovuma LNG Liquefaction Plant is the first stage of this major shift for the country. Jointly owned by ENI, ExxonMobil and CNPC, the Rovuma plant will initially have two LNG trains, each capable of producing 8.2 million tonnes per year. Production is expected to commence in 2024.

ExxonMobil will lead the construction and operation of liquefaction and related facilities, while ENI will lead construction and operation of the upstream facilities. According to ExxonMobil, the construction phase is expected to create 5,000 local jobs, with two million hours of training being planned for. The jobs created are also expected to support the country's economic growth long term, and create new opportunities and raised living standards for Mozambican workers.
Secure your next job on a leading global LNG project
As demand for LNG continues to grow, new projects are being commissioned around the world every day. To find out about all the latest suitable opportunities for you within the LNG industry, check out our live job vacancies.

NES Fircroft has been recruiting engineering and technical professionals throughout the global Oil & Gas industry for fifty years. Find out more about our recruitment services and workforce solutions.