8 Questions You Should Ask At An Interview
19 Jul, 2021
4:14
Interviews can be a very nerve-wracking experience, but it's important to remember that this...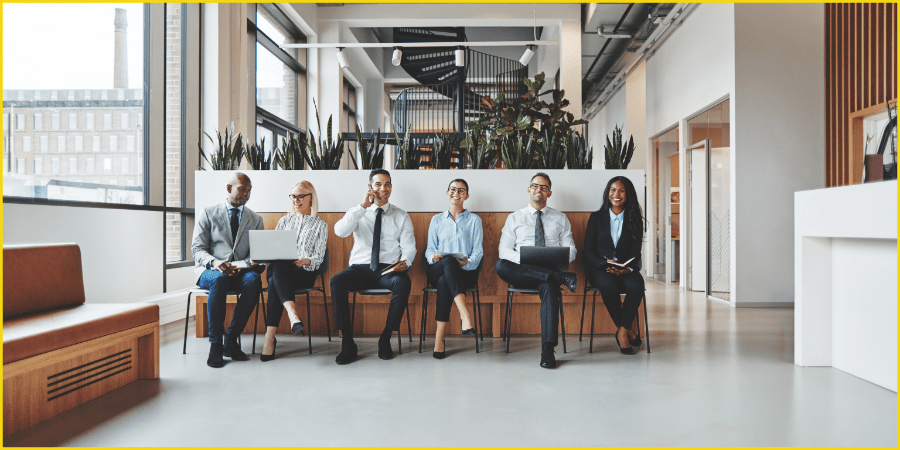 Interviews can be a very nerve-wracking experience, but it's important to remember that this is your opportunity to gain an insight into what your working life might be like if you secure the position, as well as your chance to impress. Although the hiring manager/employer will lead the interview, it shouldn't be a one-sided conversation.
Still, many candidates worry about asking the 'wrong' questions and coming across demanding. But if you don't take the opportunity to ask any questions, you're likely to come out of the interview without the vital information you need to decide if the job is right for you.
So, what should you ask at an interview? If you're currently open to new opportunities, looking for a new role, or in the hiring process, here are 8 questions you should ask at an interview to gain a useful insight into whether the position is right for you.
​
What are the opportunities for progression and development within this role?
Asking about the opportunities for progression and personal development demonstrates how serious you are about your career and professional aspirations, whilst showing that you are dedicated to staying within the company long enough to make a mark and grow within it.
It's important to know if the position will enable you to progress and whether a long-term career within the company is achievable, or whether you will have to leave the company in order to progress your career further. Make sure that by the end of your interview, you have a clear understanding of what your career path could look like within the position and organisation.
​
Could you describe to me what my day-to-day activities might look like?
This is a good question to gain a more detailed understanding of what the role entails. Whilst the job description will give you a broad overview of what your responsibilities will be, it's important to gain a more concrete understanding of what your daily tasks and schedule might look like. This'll make it easier to determine whether the role is right for you or not.
You'll also be able to determine what your employer's expectations are, meaning if you get the role, there won't be any surprises.
What does the team/company want to achieve by the end of the year?
Asking this question will demonstrate your interest in the company and your willingness to play a role in its success by reaching key company milestones.
A company's success and ambitions may also inform how your own role might evolve over the mid to long term and what your responsibilities might look like further down the line.
What would my biggest challenges be in this role?
Whilst it's essential to know what would make you good for the position, it's also important to be aware of the things you might find challenging within it. This is the kind of information that won't necessarily be present or obvious within a job description.
Asking this question will enable you to prepare for and mitigate these challenges. It'll also avoid any unwanted surprises further down the line.
You'll be able to decide whether you're up for the challenge or whether your skills, aspirations, and competences might be better suited for another position.
Not only that but understanding the challenges you might face gives you an opportunity to tell your interviewers about times when you might have faced similar challenges and how you've approached them, giving your potential new employers some reassurance.
​
How will my performance be evaluated?
One crucial factor when considering a new position is how your performance will be evaluated. Whilst some companies will favour daily, weekly, or monthly KPIs (key performance indicators), others might have a more relaxed approach and conduct yearly appraisals. This'll give you a deeper understanding of what the company prioritises and what you can do to excel in the new job.
For example, when working on an engineering project, you might be given targets when it comes to the budget, efficiency, or schedule of the project. Or you could work within sales and be measured on the number of calls you make or your monthly revenue for the company.
There are all kinds of ways a company can measure performance, and some ways might be better suited to you than others.
What do you enjoy most about working in this company?
This is a good way to engage with your interviewer on a more personal level rather than just sticking to the job details whilst still giving you great insight into what it might be like working for the company and what you might have to look forward to.
This is a great opportunity to demonstrate your enthusiasm and to figure out if the company culture and work environment is the right fit for you.
Can you tell me about the team and people I'll be working with?
One of the most important aspects of any job is the people you'll be working with. Who will you be reporting into? Will anyone be reporting into you? Will you be working alongside other people? What kind of personalities might you encounter? What kind of environment or office atmosphere will you be working in?
These are all good things to bear in mind when considering a job as you will be working in close collaboration with your team so need to know that the environment is one you can thrive in.
What are the next steps in the hiring process?
Once you've answered all your interviewers' questions, they've answered yours, and you feel like the conversation has come to a natural end, make sure you leave your interview knowing what the next steps are, so that you know what to expect going forward.
It'll generally take a few days, if not a few weeks, before you hear back from your interviewers or recruiter about how the interview went, so there's no need to put yourself under undue stress by expecting an immediate response.
You might be invited for another interview, or they might ask you to produce a written task or send over some examples of your previous work before giving you the next steps or their final decision.
Asking this indicates your enthusiasm and means you can be properly prepared when they do come back to you, regardless of whether you progress or not. ​
Finding your next job with NES Fircroft
NES Fircroft has been supporting engineers, candidates, and technical clients across a range of industries, from oil and gas, power generation and renewable energy to chemicals and life sciences over the past 50 years. If you're looking for a new job, check out our latest opportunities.
If you're looking for more career tips and advice, check out our blog or sign up to our EngineeringPro newsletter, to receive the latest career advice, industry news, job opportunities and more, directly to your inbox.