Top 7 Pharmaceutical Companies In The World
06 Apr, 2022
4:00
The pharmaceutical industry has grown exponentially over the past two decades, from $390.2 b...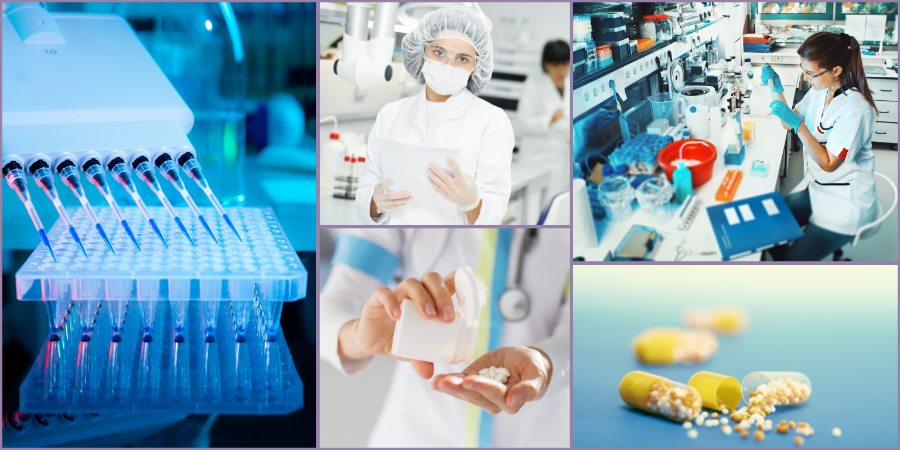 The pharmaceutical industry has grown exponentially over the past two decades, from $390.2 billion in revenue in 2001 to $1,27 trillion in 2020, which is more than a 225% increase. Of this revenue, most companies spend around 20%+ on research and development.
The importance of research and development came to the forefront with the occurrence of the COVID-19 pandemic and the need for an effective prevention method.
So, which pharmaceutical companies are contributing to this growth and enabling us to live longer, healthier lives?
Here are the world's top companies, based on pharmaceutical revenue in 2021.
​
Pfizer - $81.3 Billion
Pfizer earned the highest revenue within the pharmaceutical industry in 2021, reaching an astonishing $81.3 Billion.
This was partly due to the incredibly high volume of sales of their COVID-19 vaccine named Comirnaty, which they developed in partnership with BioNTech, a German biotech company. Comirnaty was also the first coronavirus vaccine to be approved by national health authorities.
Pfizer also spent a record amount on research and development in 2021, spending $13.8 billion, nearly 17% of its total revenue.
The company is a significant employer within the industry, with an estimated 79,000 people on its payroll.
​
Roche – $68.1 Billion
Roche came second in highest pharma revenue for 2021, with $68.1 billion. In 2020, the company was in the top position when looking at the global sale of prescription drugs, reaching just short of $47.5 billion.
The company, based in Basel, Switzerland, was established in 1896 and is now particularly prominent within the oncology field, which makes up about 45% of its pharmaceutical revenue.
In 2009, Roche acquired Genetech. This was one of the largest ever M&A deals in history. It's this move that propelled Roche to the top of the biotechnology sector.
The company spent $11.3 billion on R&D in 2020 and is predicted to be the top spender by 2026, reaching $14 billion.
​
AbbVie - $56.1 Billion
AbbVie ranks in the third position, with a global pharma revenue for 2021 of $56.1 billion, which was significantly higher than the previous couple of years (45.8 billion in 2020 and 33.3 billion in 2019).
The largest segment of the company deals with immunology, representing nearly half of AbbVie's business. Their biggest product by far is Humira, a medicine that acts on the immune system and is used to treat a range of inflammatory conditions including psoriasis, arthritis, Crohn's disease, and ulcerative colitis.
AbbVie is also involved in hematologic oncology and neuroscience, and since they acquired Allergan in 2020, in eye care and medical aesthetics.
Originally, AbbVie were part of Abbott Laboratories, which was divided into two main segments: medical devices and pharmaceuticals. In 2021, Abbott Laboratories decided to segment its pharma division, which is how AbbVie emerged, although Abbott Laboratories retained its generic drugs business.
In 2020, AbbVie completed its largest-ever M&A deal, acquiring Allergan, an Irish pharma company, for $63 billion.
​
Johnson and Johnson - $52.1 Billion
In 2021, Johnson and Johnson's (J&J) global pharma revenue reached $52,1 billion. In terms of market capitalisation, they were the leading pharma and biotech company in 2021, valued at $453.6 billion.
The company is divided into three segments: pharmaceuticals, medical devices & diagnostics, and consumer packaged goods. Total sales for J&J reached nearly $93.8 billion in 2021, with the pharma side of the business representing the largest proportion of this (approximately 56%).
Within pharma, J&J is mostly engaged in immunology and oncology, although they're also involved in vaccines and infectious diseases. Today, J&J employ nearly 142,000 people and has about 250 subsidiaries responsible for a range of well-known brands such as Neutrogena, Tylenol, Band-Aid, and Acuvue.
​
Novartis – $51.6 Billion
Global pharma revenue for Novartis reached $51.6 billion in 2021. The company also came second in 2020 for global prescription sales, which were worth $47.2 billion.
The company started implementing restructuring measures in 2015 and is now divided into two segments: Sandoz and pharmaceuticals (named Innovative Medicines). The pharma segment is responsible for the largest share of the company's revenue ($42 billion).
The majority of Novartis's business comes from Europe ($20.2 billion) and the US ($16.8 billion) and its top products are Cosentyx (an immunomodulating agent) and Entresto (cardiovascular medication).
In 2021, the company spent just over 20% of its total revenue ($9.5 billion) on R&D.
​
Merck & Co. - $48.7 Billion
Merck & Co.'s global pharma revenue for 2021 was worth $48.7 billion. The company can trace its roots right back to 1668 when Jacob Friedrich Merck purchased a drug shop in Darmstadt, Germany.
A subsidiary was formed in America in 1891, which was then confiscated in 1917 by the US state to help the war effort. Since then, it has remained an American independent company.
Merck create a whole range of products including oncology medication, vaccines, and animal health treatments. The company's leading product is Keytruda, a cancer drug used to treat melanoma. Their other main product is Januvia, a type-2 diabetes drug.
In 2021, the company was employing about 68,000 people spread across more than a hundred countries.
​
Bristol-Myers Squibb - $46.4 Billion
Bristol-Myers Squibb's (BMS) global pharma revenue reached $46.4 billion in 2021. BMS produces a range of prescription pharmaceuticals and biologics used in a range of therapeutic areas including oncology, haematology, immunology, and cardiovascular disease.
The company was founded in 1989 through the merger of two American Companies 'Squibb' and 'Bristol-Myers'.
In 2021, BMS's top products, based on revenue, were:
​
NES Fircroft and the Life Science industry
NES Fircroft has been supporting the Life Science market for over 20 years, sourcing personnel for engineering, scientific and commercial roles across the market. We recruit highly experienced professionals to the biotechnology, pharmaceutical, diagnostics, and medical devices industries.
We can provide both permanent and contract candidates to the Life Science industry across Quality, Clinical, Regulatory/Compliance, and Engineering disciplines.
If you're looking for skilled personnel, get in touch with our dedicated Life Science Recruitment teams to find out how we can support you.
Are you looking for a new job? Browse our Life Science vacancies today.